Colli Piacentini (Hills of Piacenza) is a wine region in the northwest of Italy near the point where Emilia-Romagna meets Piedmont, Lombardy, and Liguria. It is a storied land where viticulture has been practiced since as far back as 2000 BCE and some of the techniques that the ancient Etruscan civilization developed are still in practice today.
A top producer in the region, La Stoppa was founded in the late 19th century by Gian-Carlo Ageno, a lawyer from Genova. The estate is currently run by Elena Pantaleoni and enologist Giulio Armani. 
Elena's father purchased the estate in 1973, a lifelong dream realized. Elena joined him to work at the winery full-time in 1991.
The estate has a fascinating history of vinegrowing. Gian-Carlo Ageno was the first to plant there after purchasing the land. When the phylloxera epidemic hit, he was forced to replant in the 1920s, choosing at the time to experiment with international varieties like Chardonnay, Sauvignon Blanc, Tokay, Pinot Gris, Grechetto, Pinot Noir, and others. Although the Pantaleonis were making good wine from this fruit for a couple of decades, they realized the early-ripening characteristics of those varieties weren't suitable to produce wines that truly expressed place. In 1996 they made the decision to pull those vines and replant with local varieties Barbera, Bonarda, and Malvasia di Candia Aromatica.
La Stoppa's 79 acres of vines are grown in clay/silt soils and balanced by almost as much forested area surrounding the vines. The farming has been organic since the early 1990s with official certification in 2008. Elena believes someday that her nieces and nephews will take over the estate, so she feels like its guardian and works to preserve and maintain its sanctity.
In the cellar, indigenous yeasts are used to ferment the wines. Long skin macerations are the norm for the warm climate and sulfites are never added during vinification. Stainless steel, cement, and wooden tanks are used for fermentation with both large and small barrels used for aging. Elena eschews DOC classifications, believing that the DOC regulations are too inclusive in terms of permitted varieties, geographical boundaries, and production techniques. She chooses to bottle her wines under the broader classification Indicazione Geografica Tipica (IGT) instead.
Indeed, every aspect of production is focused toward producing wines with the identity of Colli Piacentini. German philosopher Hans-Georg Gadamer once wrote, "Culture is the only good of humanity that divided between us all, instead of diminishing, will become greater." It is a concept that Elena Pantaleoni puts into practice everyday.
All prices based on the purchase of six or more bottles (mix and match).
~$21 "Trebbiolo" (Vino Rosso 2017) RED
First produced in 1988, the name "Trebbiolo" comes from the vines' proximity to the Trebbia river, about two miles west of the estate. It is the traditional blend of Colli Piacentini, 60% Barbera and 40% Bonarda, obtained from a selection of the larger berries, and the younger and lower parcels. The vines are 7, 15, and 40 years old. Fermentation and aging occurs in stainless steel and cement tanks. A downright poundable wine with aromas of sweet black cherry and sun-drenched terra cotta. A sip is full of voluptuous fruit with plenty of acid to balance it out and just a hint of tannin on the finish. A stellar wine to pair with pretty much any carry-out dinner, especially if it's pizza.
~$38 "Macchiona" (Emilia Rosso IGT, 2011) RED
La Stoppa's flagship wine produced since 1973 is a blend of 50% Barbera and 50% Bonarda from vines 15 and 40 years old. "Macchiona" is the name of a farmhouse found among the most traditional vineyards of the Colli Piacentini. The wine sees 40 days maceration on skins in stainless steel and/or cement tanks before aging in Slavonian oak barrels of 1,000 and 2,000 liters as well as 4,000 liter wooden tanks. The wine is not filtered and no sulphites are added. Heady aromatics of summer berries, rose, allspice, and earth precede a medium-bodied sip with serious mineral length. With eight years of time since harvest, the wine is fully integrated, mature, and drinking at its peak.
~$38 "Ageno" (Emilia Bianco IGT, 2013) WHITE
Named after the founder of La Stoppa, Gian-Carlo Ageno, the blend is 90% Malvasia di Candia Aromatica finished with 10% Ortrugo and Trebbiano. "Ageno" is a skin macerated "orange wine" produced since 2002 — well before orange wines became the new thing. The wine sees around four months maceration on skins in stainless steel and/or cement tanks before aging in 4,000 liter wooden tanks. The wine is not filtered and no sulphites are added. Flowers, sweet citrus, and orchard fruits play alongside an herbal musk. The extended skin contact creates a warm-climate white with the textures and length of a red wine. Depth, complexity, and minerality abound.
- - -
Posted on 2019.09.19 in Emilia-Romagna, Italy, Saturday Sips &nbsp| Read more...
The story of Domaine Lafouge goes back centuries. It was established in 1650 in the village of Auxey-Duresses, just west of the vineyards of Meursault. Although the family has been producing wines from village and premier cru vineyards for several generations, it was only when Gilles Lafouge joined his father after wine school that the domaine focused on bottling wine under the family name. While the wines o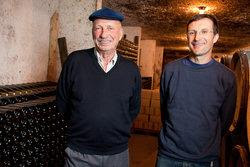 f Lafouge are still somewhat under-the-radar, they have a track record for consistency and exceptional expression of place.
The 24 acre estate consists of outstanding old-vine vineyards in Auxey-Duresses as well as small parcels in Meursault and a Premier Cru plot in Pommard. The approach to vineyard management is lutte raisonée (reasoned struggle) and includes plowing to both force the roots deep and reduce the need for herbicides. The soils are also treated with organic compost. Vinification is done with a philosophy of minimalism. The wines are fermented with indigenous yeast and maturing is done mainly in old barriques with a small percentage of new oak, depending on the cuvée.
Gilles Lafouge is clearly on his way to becoming a member of an exclusive group of the very top-tier of producers in Côte de Beaune. We're pleased to offer his wines before the price reaches that same tier.
All prices based on the purchase of six or more bottles (mix and match).
~$49 "La Chapelle" (Auxey-Duresses Premier Cru, 2016)
100% Pinot Noir from "La Chapelle," a 3.2 acre climat located almost entirely within the Premier Cru of "Reugne" and notable as one of the top vineyards in Auxey-Duresses. The vineyard boasts vines mostly 50 to 70 years old. Auxey-Duresses may be the most underrated commune in the Côte de Beaune, quite often offering unusually good value given the price. And this wine definitely fits the category with delicate yet heady aromas of macerated cherries, earth, and spice. A sip is all firm, concentrated fruit alongside crunchy minerals and silky tannins.
~$71 "Les Chanlins" (Pommard Premier Cru, 2016)
100% Pinot Noir from an 80-year old parcel on a steep slope of eroded soils of iron deposits, facing east, at 900 feet of elevation. "Les Chanlins" lies ideally next to Pommard's most esteemed Premier Cru vineyard, "Les Rugiens." Legend has it that Victor Hugo, famous French poet, novelist, and dramatist of the Romantic movement, was so smitten with Pommard that he described the wines as "night in combat with day." Perhaps Victor was drinking wine from a Lafouge property when he came up with the notion. Deeply layered, concentrated, and full of life, the wine is still quite primary but its intoxicating aromas of fruit liqueur and rose petals predict an extraordinary drinking experience with robust decanting or time.
~$62 "Les Casses-Têtes" (Meursault 2016)
100% Chardonnay from the hillside lieu-dit "Les Casses Têtes," located on the slope above the renowned Premier Cru "Les Gouttes d'Or." The wine owes its name to the rocky soils, where it was necessary to "break heads" (casser les têtes) of rocks on the surface in order to plant vines. The resulting wine is bursting with vibrant energy. Aromas of lemon, pear, spring meadows, and wet stone rise above a sip that is crystalline and exceptionally long in its mineral finish. Drink now with a vigorous decant or allow it to develop in the cellar over the next ten years.
- - -
Posted on 2019.09.12 in France &nbsp| Read more...
The roots of Domaine Saint Préfert can be traced back almost a century. Founded in the 1920s, it quickly earned renown for superior quality, and even became one of the first wines exported from southern Rhône into the United States.
The modern era for Saint Préfert began in 2003 with the first release by Isabel Ferrando. Born and raised in Provence, Isabel led a comfortable life as a senior manager for a large bank before she realized that the vineyards in the south were calling her home and she returned to school to study viticulture.
 She purchased the estate in 2002, at the time 32 acres of vineyards all in the far south of the appellation in the lieu-dit "Les Serres" below the village of Châteauneuf-du-Pape.
Isabel's reputation has grown every vintage since her first release and her wines have become reference points for Rhône quality and expression. Some of her success comes from the fact that she has very old vines in her holdings — the Grenache vines average more than 70 years old, and she still has some of the original Mourvèdre that was planted in the 1920's.
The vines are cultivated organically. In the past decade, Isabel has begun working with whole-cluster fermentation with indigenous yeasts, moving away from bigger, extracted wines into realms of lowered alcohol and increased freshness. These current vintages of Domaine Saint Préfert reflect this focus on balance while at the same time expressing the sun and soils of a storied appellation.
All prices based on the purchase of six or more bottles (mix and match).
~$21 "Clos Beatus Ille" (Côtes-du-Rhône 2017)
85% Grenache and 15% Cinsault from La Lionne, in the Sorgues district, just south of the village of Châteauneuf-du-Pape. The fruit is 100% destemmed and both fermented and aged in cement tanks. The wine is medium-bodied, juicy, and balanced with loads of berry fruit and flowers.
$45 Châteauneuf-du-Pape (2015)
A blend of 85% Grenache, 5% Cinsault, 5% Syrah, and 5% Mourvèdre from the youngest vines (30 years and younger) in the "Les Serres" lieu-dit. The wine underwent 100% whole-cluster fermentation and was aged 15 months in cement tanks. Chocolate, raspberry, and garrigue highlight this lush but balanced wine with a persistent finish. Drink now and into the end of the next decade.
~$67 "Réserve Auguste Favier" (Châteauneuf-du-Pape 2016) 
85% Grenache and 15% Cinsault from the "Les Serres" lieu-dit. The wine underwent 100% whole-cluster fermentation and was aged 18 months in cement tanks. The exceptional 2016 vintage shows in this rich and velvety wine with soaring aromas and freshness. There are plenty of balancing tannins and mineral length on the back end. This generous cuvée has many years of pleasure to give.
$117 "Collection Charles Giraud" (Châteauneuf-du-Pape 2016)
The tête de cuvée of Domaine Saint Préfert made from the oldest vines (60 to 100 years) from the "Les Serres" lieu-dit. The blend is 60% Grenache and 40% Mourvèdre that underwent 100% whole-cluster fermentation and was aged 18 months in both cement tanks and older 600-liter barrels. Fruit, freshness, and power — the fantastic 2016 vintage is again on display with this wine that is intensely concentrated and rich yet still maintains an elegant harmony. "Charles Giraud" has at least two decades of exuberant drinking to offer lovers of Châteauneuf-du-Pape and lovers of world-class wine.
- - -
Posted on 2019.09.05 in France, Saturday Sips, Southern Rhone &nbsp| Read more...
Join us this Saturday to taste three different Muscadet from two top producers in the region.
There are a few things one should know about Muscadet: 1) Although it is sometimes confused with Muscat or Moscato, Muscadet is not a grape variety. It is a type of dry, white wine from northwestern France made with the grape variety Melon de Bourgogne. 2) While being justly recognized as a wine that pairs exceptionally well with oysters, a good Muscadet will be slightly salty, firm but not harshly acidic, and offer so much more to a discerning drinker than mere liquid to adequately wash down a bite of shellfish. 3) Muscadet has traditionally been bottled "sur lie" (on the lees), meaning that it has been kept in contact with the spent yeast cells and not racked or otherwise filtered for the purpose of deepening both the flavor and the texture.
The low hills of gneiss and granite in the Sèvre-et-Maine zone, east of the city of Nantes, is where the Melon de Bourgogne grape produces the ripest, liveliest, and most scented Muscadet. And that is where you'll find the heroes of our story.
All prices based on the purchase of six or more bottles (mix and match).
---
Ninth generation winemaker Pierre-Marie Luneau was raised at his family estate in the village of Le Landreau in the eastern portion of Sèvre-et-Maine, yet he always seemed curious about viticulture outside his home region
. At 18 he was off to school in Bordeaux and subsequently traveled France working at various vineyards in Sancerre, Bordeaux, the Languedoc-Roussillon between Perpignan and Rivesaltes, and then back to Sancerre. In 2011 he took over as head of the estate.
With a little over 110 acres of vineyards, the Luneau's have a relatively large estate for a grower/producer. That area is spread over 10 plots with 50 different parcels, including some exceptional terroir that is vinified separately so as to reflect its particular character. Pierre-Marie's father, Pierre, was instrumental in building the vineyards by procuring some of the best parcels available in Sèvre-et-Maine. Over time the estate has converted to organic cultivation, gaining full certification in 2016. Everything at Luneau-Papin is done with the purpose of expressing the mineral purity of Melon de Bourgogne from their soils, and it shows in the wines.
~$24 "L d'Or" (Muscadet Sèvre-et-Maine Sur Lie 2017)
The domaine's flagship wine is 100% Melon de Bourgogne from vines over 45 years old. The parcels are granite, south facing river slopes near the village of Vallet. This is Luneau-Papin's only cuvée on a granite subsoil. The wine matured for up to 12 months on its lees, with regular stirring (bâtonnage) to keep the lees in suspension.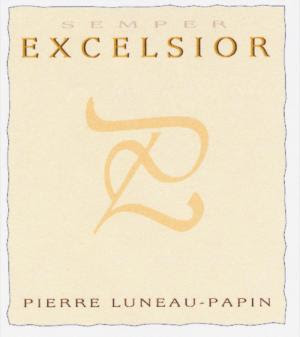 ~$30 "Excelsior" (Muscadet Sèvre-et-Maine 2015)
100% Melon de Bourgogne from 80 year old Massale selection vines. The wine comes from a parcel of vines called Clos des Noëlles, planted in 1945 by Pierre-Marie's great-grandfather, Joseph Bonneau. The plot faces due south in the village of la Chapelle-Heulin on a bedrock of micaschist. The wine matured for 36 months on its lees, with regular stirring (bâtonnage) to keep the lees in suspension.
---
Domaine de la Pépière is located in the village of Maisdon-sur-Sèvre in the southern portion of Sèvre-et-Maine. The estate was founded in 1984 by Marc Ollivier and has since become a benchmark for naturally produced Muscadet. Marc started with about 17 acres and over the years the domaine has grown by acquiring new plots,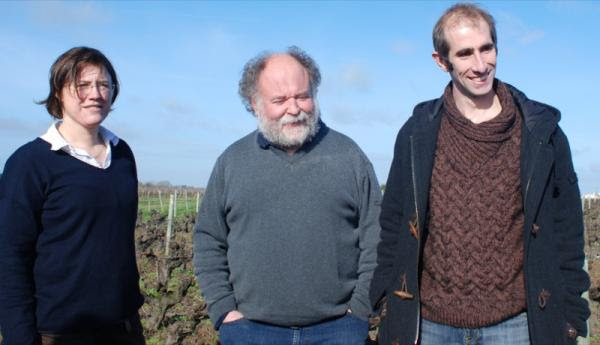 carefully chosen for the age of their vines and the quality and originality of their terroirs. He currently holds about 86 acres.
The domaine's various sites are rich in granite and gneiss in differing stages of decomposition. The vines range in age from 20 to over 100 years old. As with every great winemaker, Marc believes that the quality of a wine depends entirely on the quality of the fruit it was made with, and his cultivation methods reflect that philosophy. To that end, Marc has taken on partners Rémi Branger, who joined the estate in 2007, and actively worked on the organic conversion of the vines, and Gwénaëlle Croix, who came in 2013, and has pushed the farming methods towards biodynamic viticulture
~$35 "Gorges" (Muscadet Sèvre-et-Maine 2015)
Gorges is one of three designated Crus in Sèvre-et-Maine. You can think of it like a Grand Cru in Burgundy or Alsace. Not only is the terroir of Gorges known to produce exceptional wines, the regulations on its production are more strict. Among many of the rules in pursuit of quality, yields must be kept low, and the wines must be aged on their lees for a longer period of time
100% Melon de Bourgogne. The estate sourced the fruit from highly regarded grower Michel Brégeon who is well known for his vineyards with "Gabbro" soils — ancient, blue-green, volcanic rock, formed by magma eruptions under the ocean floor — that are said to impart intense complexity to the wines produced from this terroir. The wine was fermented in stainless steel tanks with natural yeasts, followed by aging sur lie in vat for 42 months before bottling without fining or filtering.
- - -
Posted on 2019.08.29 in France, Loire, Saturday Sips &nbsp| Read more...
Some folks think that Venetian-born Giuseppe Sesti is a lunatic. A student of music, art, and astronomy, the last of which became his profession, Giuseppe eventually fell into winemaking after restoring the abandoned ruins of the Castello di Argiano that he purchased in 1975. The castle is located just a few miles southwest of Montalcino and was once an ancient Etruscan outpost. It is there that breezes from the Tyrrhenian Sea and sandy, tufaceous soils produce Sangiovese-based wines of refinement and exuberance.
Before planting his own vineyards in 1991, Giuseppe spent much of his free time visiting local wineries and helping out his neighbors in their vineyards and cellars, gaining the experience that would bring him the recognition he sees today.
The claim by some that Giuseppe is a lunatic comes from his study of both the classics and oral tradition that brought him to re-evaluate the influence of the moon on the vines and in turn the making of the wine itself, allowing him to reduce sulphites to a bare minimum. Indeed, ln I975 he had already published tables of the small and larger moon cycles for agricultural use in order to reduce the use of chemicals on the land. This account by Giuseppe himself gives you an idea of how influential oral tradition was to him. This is about as "old-world" as winemaking gets.
Today, Giuseppe's daughter, Elisa, who grew up at the estate, is an active partner in all aspects of the vineyard management and winemaking. She continues the eco-friendly philosophy adopted by her father. Elisa's primary concern is the raw material that goes into the wine. Because, as every great winemaker will tell you, wine is made in the vineyard first. The estate totals about 22 acres of vineyards (a little over nine acres are in the Brunello zone) and production is small.
All prices based on the purchase of six or more bottles (mix and match).
~$22 "Monteleccio" (Toscana IGT 2016)
The name "Monteleccio" is an Italian version of the Latin name "Montalcino," meaning "hill of the holm oaks." The wine is produced from 100% Sangiovese that ages for one year in 30 hectoliter oak botti before release. Aromatics of cherry licorice and sun-drenched Mediterranean scrub precede a sip that is simultaneously complex and easy to drink. The generous fruit is bittersweet in the best way possible. "Monteleccio" is a superb value that will elevate any pizza night.
~$31 Rosso di Montalcino (DOC 2016)
100% Sangiovese from five acres of vineyard with characteristic oceanic sediment. The wine ages for 18 months in 30 hectoliter oak botti before release. The world's leading authority on Italian wine, Gambero Rosso, has awarded this lovely expression of the Tuscan hills it's highest rating of Tre Bicchieri (Three Glasses) — an award that only the top wines of Italy will ever receive. A medley of alluring scents rise from a glass: summer fruits, sandalwood, and rose, to name but a few. A sip is fresh and concentrated with fruit, with a plump mid-palate, and a lengthy, mineral finish. It's a wine with Brunello di Montalcino vibes, without the Brunello di Montalcino price.
$99 Brunello di Montalcino (DOCG 2013)
100% Sangiovese from nine acres of vineyard with characteristic oceanic sediment and vines planted from cuttings taken from very old, neighboring vineyards over twenty years ago. The wine ages for four years in 30 hectoliter oak botti, and a further year in bottle before release. The wine captures the best elements of the excellent 2013 vintage with rich fruit, a polished mouthfeel, and a firm but integrated tannic backbone. It is one of the year's best Brunello di Montalcino wines that will reward a patient drinker.
---
For a deeper dive into the philosophy of Sesti, the present state-of-affairs of Brunello di Montalcino, and some beautiful drone footage of Castello di Argiano, check out this interview with Giuseppe.
- - -
Posted on 2019.08.22 in Italy, Saturday Sips, Tuscany &nbsp| Read more...