There is value almost everywhere you look if you know how to spot it. In this case, value lies in the unheralded agricultural region on the glacial morainic slopes of Lake Garda, in the Valtènesi sub-zone distinguished by superior exposure to the sun and moderating breezes from the lake. It is there that Gianfranco Comincioli is producing wines of incomparable expression at Azienda Agricola Comincioli.
Along with his wife Elisabetta and sons Roberto and Andrea, 13th generation farmer Gianfranco presides over 27 acres of vineyard and 24 acres of olive groves. Indeed, it is for the amazing (if somewhat controversial) olive oilsfor which Comincioli is most well-known. But the wines are made with the same painstaking care as the oil — soaked in a philosophy based on an unwavering respect for traditions and the environment. Gianfranco and family are dedicated to not only preserving their region's indigenous grape varieties but to use them to produce wines of the utmost quality. Wines of terroir.
---
The Wines of Azienda Agricola Comincioli
Special prices based on purchase of 6-pack (mix-and-match)
~$22/bottle Comincioli "Riviera" (Riviera del Garda Bresciano 2011) RED
It is a rare thing to find a wine of this maturity at this price. Drinking at its peak right now, the cuvée "Riviera" is based on 60% of the native Groppello variety with the remainder a blend of Sangiovese, Marzemino, and Barbera. The wine is aged for 24 months in stainless steel tanks, 30 months in oak casks, and then another 6 months minimum in bottle before release. Full of juicy red and black berries with intoxicating floral and spice aromatics, it's reminiscent of the Valpolicella Ripasso from the other side of Lake Garda but with a vibe all its own. It's ideal balance will pair beautifully with most classic Italian pasta dishes or simply a group of good friends.
~$22/bottle Comincioli "Diamante" (Riviera del Garda Bresciano 2016) ROSÉ
A rosé with a little more sap than the typical light and airy numbers made only for summer drinking. The cuvée "Diamante" is mainly produced from the native grape of Groppello (80%) with the remainder a blend of Barbera, Sangiovese, and Marzemino. A brief contact on these "black grape" skins results in a wine of ideal balance with aromatics of rose, alpine strawberry, and pomegranate. Vinification and aging in stainless steel tanks keeps the wine crisp and refreshing without being simple. This is a wine to pair with everything from spicy seafood dishes to pizza to lamburgers.
~$24/bottle Comincioli "Perlì" (Vino Da Tavola 2016) WHITE
The only reason this elegant white is declassified into the humble status of table wine is because Gianfranco has produced it using only the local indigenous varieties of Trebbiano Valtènesi and Erbamat, both grapes that are not allowed under DOC regulations but were introduced from obscurity into the Comincioli vineyards 30 years ago. One sip of its concentrated fruit and bracing minerality is enough to prove its bona fides as a wine of distinction and longevity. All the citrus, floral, and woodspice aromatics will curl your eyebrows. Fans of Sancerre will particularly enjoy this wine. Only 6,000 bottles produced.
~$58/bottle Comincioli "Suler" (Riviera del Garda Bresciano 2011) red
Valpolicella is on the other side of Lake Garda from Comincioli and is world famous for the production of Amarone in the "appassimento" style of drying the grapes before vinification to concentrate the fruit's sugars and flavors. This regional style is uniquely conveyed in the cuvée "Suler." A mix of Sangiovese, Marzemino, Groppello, and Barbera grapes are placed in shallow, ventilated crates for a period of 20-30 days. After aging for 24 months in stainless steel tanks, 30 months in oak casks, and then another 18 months minimum in bottle, "Suler" delivers with the weight and concentration of big, ripe fruit that Amarone lovers cherish with the aromatics and flavors exclusive of Valtènesi.
- - -
Posted on 2018.05.16 in Italy, Lombardy, Saturday Sips &nbsp| Read more...
Saumur-Champigny has the reputation for producing some of the finest expressions of Cabernet Franc available to humanity. The underlying tuffeau (a soft, chalky limestone) is the foremost element in Saumur-Champigny's distinctive quality. It is here, in the small town of Dampierre-sur-Loire overlooking the Loire River, where Château du Hureau is able to harness climate, soil, and vine to reveal the most striking wines of the appellation.
Fifth generation vigneron Philippe Vatan and his daughter Agathe use organic and biodynamic farming techniques and low yields to coax richness and terroir out of their 20 plots covering just under 50 acres. The varying layers of topsoil (it's either fertile clay or a sandy type of soil) and diverse sun exposure affect every plot's personality, expression, and importance in their various cuvées. The wines are vinified in a cave carved out of the tuffeau cliffs centuries ago. The wines see long fermentations with indigenous yeasts. The élevage lasts from 10 to 20 months deep in the tuffeau cellars in a combination of demi-muids and foudres.
All of these factors contribute to the elaboration of Cabernet Franc wines that are aromatically complex with the hallmark Saumur-Champigny scents of black raspberry and earth. Wines that are dark and intense yet supple and sappy, with the electrifying, palpable acidity you expect from northern France.


2014 Vintage Wines of Château du Hureau
Special prices based on purchase of 6-pack (mix-and-match)



~$31 "Fours à Chaux" (Saumur-Champigny 2014) red
From two plots "Les Fiefgarniers" and "Pavignolles" in the vineyards of "Fours à Chaux," mixed sand and clay above a chalky limestone bowl that gets prolonged sunlight during the ripening season. The name "Fours à Chaux" translates to "lime oven" as the soil of the vineyard warms up easily and manages to produce the ripest of fruit in every vintage. The age of the vines varies between 20 and 50 years. Depending on vintage characteristics, the wine ages for anywhere between 11 to 18 months in foudre.





~$37 "Les Fevettes" (Saumur-Champigny 2014) red
From the deep clay lieux-dits of "Les Fevettes" and "La Croix Blanche" – Château du Hureau's oldest Cabernet Franc vineyards planted in 1943. The wine was aged for 24 months in foudre and bottled without filtration. 2014 was a magnificent vintage for "Les Fevettes," producing a classic and long-lasting expression of Saumur-Champigny with serious structure and aromatic finesse.





~$44 "Lisagathe" (Saumur-Champigny 2014) red
The cuvée "Lisagathe" is named after Philippe's two daughters, Lisa and Agathe. This is Château du Hureau's top wine from a plot named "La Corde" that was planted in 1953 and located on the hillside just above the Château. The vines are drastically thinned to force small yields of healthy, concentrated fruit. The wine was aged for 24 months in foudre and bottled without filtration, resulting in a cuvée capable of lengthy development in a proper cellar.





~$29 "Argile" (Saumur 2014) white
The cuvée "Argile" is named after the deep clay topsoil of the Hureau vineyards planted to Chenin Blanc. It is 100% Chenin Blanc from hillside lieux-dits "Entre Deux Voies," "Les Gruches," and "Saint Vincent" planted with vines that have an average age of 30 years. The plots are worked with the aim of restricting yields to enable the grapes to ripen naturally, resulting in concentrated wines, dry yet with just a hint of residual sugar for superb balance, filled with fruit, floral aromatics and freshness. The wine matures for nine months in neutral barrel.
- - -
Posted on 2018.05.09 in France, Loire, Saturday Sips &nbsp| Read more...
Fattoria I Collazzi "Collazzi" (IGT Toscana 2014)
Special Price: $243/6-pack (~$40/bottle)
The breathtaking estate of Collazzi lies at the gates of Florence in northern Tuscany. A large part of the estate is covered with olive trees (Collazzi olive oil truly is a fine example of bold, peppery Tuscan oil) but wine has become the core product of the estate. Although Lamberto Frescobaldi, the head of the Florentine winemaking dynasty Marchesi de' Frescobaldi, was charged with modernizing Collazzi's cellars and revitalizing the vineyards, it is Collazzi vineyard manager and cellarmaster Alberto Torelli that spends the days among the vines.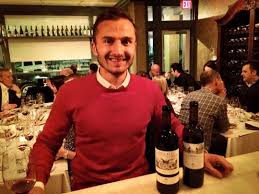 Alberto is a Florentine in every sense of the word. "A Lover of the land and ambassador of its flavors." Born in Florence in 1981, he followed in his ancestor's footsteps by studying winemaking and viticuture at the University of Agriculture in Florence before beginning his career in the Chianti area. After a chance meeting with Lamberto Frescobaldi, Alberto was hired to head up the estate. Since 2005, he has made the estate's wine, managed its vineyards, and even oversees the historic Collazzi villa that was originally designed by Michelangelo in 1560.
Collazzi's vineyards are generally warmer and drier than the surrounding area. Part of the estate lies in a natural amphitheater, with an ideal south-westerly exposure. Long, sunny days and a high average temperature allows a complete ripening of the fruit in all vintages. Because of heavier limestone clay soils, the vineyard plantings are mainly Bordeaux varieties. This prime terroir that produces fruit of exceptional quality and concentration coupled with passionate winemaking results in wines of elegance and aromatic complexity.
Collazzi's flagship wine was first produced in 1999. Since 2009 Collazzi has employed certified "Integrated Farming," a holistic approach where high quality organic fruit is produced sustainably and with as few polluting inputs as possible.
The 2014 vintage "Collazzi" is a blend of 50% Cabernet Sauvignon, 25% Cabernet Franc, 21% Merlot, and 4% Petit Verdot. All fruit was hand-harvested into small boxes and fermented separately. In the cellar the individual berries are examined by hand on a sorting table to eliminate even the smallest foreign matter, including damaged grapes and leaf fragments. The wine ages in French oak barriques (60% new) for 18 months and then it is bottle-aged for another 12 months before release.
A thickly layered perfume of blackberry compote, mocha, licorice, and tobacco rises out of a rich and ripe glassful of deep, concentrated fruit. The mid-palate is plump yet never veering off balance. The finish is lengthy, with a coiled mineral core surrounded by gentle tannins. A crowd-pleaser by any measure, you could do worse things in life than pairing "Collazzi" with classic Bistecca alla Fiorentina.
- - -
Posted on 2018.04.25 in Italy, Saturday Sips, Tuscany &nbsp| Read more...
Domaine Clusel-Roch "Galet" (Coteaux du Lyonnais 2015)
Special Price: $156/6-pack (~$26/bottle)
The link between the vineyards of Beaujolais and the Northern Rhône Valley lie on the slopes of the Monts du Lyonnais at the eastern edge of the Massif Central. While achieving appellation status only recently in the mid-1980s, Coteaux du Lyonnais has nevertheless had a long history of mostly red wine production before the ravages of phylloxera. Today, vines share space with other food crops and fruit orchards, enjoying the balance of continental winters with Mediterranean summers.
100% Gamay from vines with an average age of about 40 years, Domaine Clusel-Roch's "Galet" comes from the southern part of the appellation, from the village of Millery not far from the Rhône River. The slopes are southeast facing and the soil consists of glacial moraine and granite. Harvest and sorting is done by hand and fermentation takes place with indigenous yeasts. The wine is aged for 12 months in barrels, about two to three years old. Only 500 cases are produced.
There is little sign of the hallmark carbonic maceration smells of strawberries and cinnamon. In their place are more elegant Burgundian aromatics of cherry licorice, flower gardens mulched with fresh forest compost, and just a wee curl of sandalwood smoke. A sip is structured and dense with sappy wild bramble fruit. If any comparison to Cru Beaujolais is to be made, it has to be to the age-worthy specimens from Morgon and Moulin-à-vent. Break out a bottle this spring with chicken quarters slow-roasted over hardwood charcoal and a side of pommes de terre à la Lyonnaise.
Domaine Clusel-Roch began as a simple family farm that cultivated vegetables, fruit trees and a handful of Côte-Rôtie vines. By the mid-1990s, Gilbert Clusel and Brigitte Roch had built the estate into a top level producer with a modern gravity-fed cellar, replanting of vines using only massale selection grafted at the estate, and the switch to organic and biodynamic farming – achieving full organic certification in the early 2000s. Today it is their son, Guillaume Clusel, who is responsible for most of the work at the estate. The vines are cultivated in the most natural way possible. Indeed, intensive manual labor is required on the steep slopes of Côte-Rôtie. This dedication to producing wine in the vineyard first can be tasted in each of their wines.
---
Also Available from Domaine Clusel-Roch (extremely limited)
Domaine Clusel-Roch "Classique" (Côte Rôtie 2014)
Special Price: ~$80/bottle
The wines of Côte Rôtie can be the most profound expressions of the Syrah grape and Clusel-Roch's "Classique" is no exception. The aromas of smoked meat and flowers precede a red and blue berry salad. A sip is dense but not thick, somehow simultaneously wiry and generous with a mineral vein that goes on for miles. Expect this wine to develop over the next decade or more. In the near term it would be a special pairing with a large hunk of roasted or grilled red meat.
This cuvée comes from around eight acres of vines in the lieux-dits of Viallière, Champon, and Le Plomb in the northern part of the appellation facing southeast over the Rhône River. This area is known as the Côte Brun, with soils of decomposed schist containing black and white mica. The blend is 95% Syrah from selection massale and around 5% co-planted Viognier. The average vine age is 20 years old. Harvest and sorting is done by hand. Grapes are put into tank by gravity, partially de-stemmed, and fermented with their indigenous yeasts. The wine is aged for 2 years in oak barrels (15% new) with no filtration before bottling.
- - -
Posted on 2018.04.18 in France, Northern Rhone, Saturday Sips &nbsp| Read more...
Sílice Viticultores "Sílice" (Galicia 2016)
Special Price: $156/6-pack (~$26/bottle)
It has long been recognized that the western Spanish region of Ribeira Sacra in Galicia had the potential to create world-class wines. Indeed, thousands of years ago, Romans carved terraces on the steep slopes that rise from the rivers below, well aware that their monumental effort in cultivating vines on these mountainsides would lead to wines of distinction. But it wasn't until relatively recently that more than a few winemakers were producing anything other than everyday wine for local consumption.
Staring up these vineyard cliffs one might imagine they were in the famous Northern Rhône appellation of Côte-Rôtie. Perhaps that is why today's Ribeira Sacra is a region where young winemakers are settling in to harness these soaring slopes for the purpose of making great wines.
Sílice Viticultores is 
a small project started in 2013 by brothers Carlos and Juan Rodríguez with star winemaker Fredi Torres, a native of Galicia who cut his teeth in Priorat working with Clos Mogador before starting his own operation, Saó del Coster. Production is tiny, starting out with a mere 3,800 bottles in their first year. Although the partners do not seek the Ribeira Sacra appellation status for their wines, choosing the freedom to make their own rules, they cultivate indigenous vines using organic and biodynamic methods with the goal of expressing the terroir of Amandi — one of the five subzones of Ribeira Sacra.
These are lively, graceful, cool-climate wines, defined as much by the nearby Atlantic coast as the soils and slopes, with a similar sort of aromatic headiness and balanced ripeness of Northern Rhône. 2016 Sílice is a Mencía-based blend with 20% of other grapes including Albarello, Garnacha Tintorera, Merenzao, and even some white grapes from different vineyards in the Amandi zone, planted on sand, granite, and slate. 70% full clusters saw a relatively short maceration in stainless steel with indigenous yeasts. The wine is then matured in a 17-year-old, 4,000-liter oak foudre purchased in Châteauneuf-du-Pape. Only a little over 1,000 cases of the 2016 vintage was produced.
The result is a wine made to drink early and often while still maintaining the complexities of the region. Aromas of sweet cherry, wanton flowers, smoked tea, and loamy earth fill the glass. Ripe fruit is in ideal balance with bright and juicy wild forest berries. The food culture of inland Galicia mainly revolves around pork rather than the seafood that highlights the coastal zones. A bottle of Sílice would be ideal with a quick-grilled tenderloin.

- - -
Posted on 2018.04.11 in Ribeira Sacra, Saturday Sips, Spain DO &nbsp| Read more...