Although published in 1990 and out-of-print, Burton Anderson's The Wine Atlas of Italy still offers some of the most insightful observations on Italian wine to be found anywhere. Almost 30 years ago his take on Azienda Agricola Comincioli was that they were an "unsung producer of some of the most consistently impressive" wines in Riviera del Garda — an agricultural zone on the glacial morainic slopes of Lake Garda, known mainly to locals and the cosmopolitan crowd of tourists that flock to this region, one of Italy's most breathtakingly beautiful. Not much has changed for Comincioli since Burton wrote those words. They are still producing some of the most charming wines in the northeast of Italy to little fanfare from mainstream wine pundits. The good news for wine lovers is that these charming wines are a superb value.
Along with his wife Elisabetta, and sons Roberto and Andrea, 13th generation farmer Gianfranco Comincioli presides over 34 acres of vineyard and 64 acres of olive groves. Indeed, it is for the amazing (if somewhat controversial) olive oils for which Comincioli is most well-known. But the wines are made with the same painstaking care as the oil — soaked in a philosophy based on an unwavering respect for traditions and the environment. Gianfranco and family are dedicated to not only preserving their region's indigenous grape varieties but to use them to produce wines of the utmost quality.
The farm lies in the Valtènesi sub-zone, the most venerated of the district. Valtènesi is distinguished by superior exposure to the sun and moderating breezes from the lake. For context, Comincioli's vineyards are almost directly across the lake from Valpolicella, where Italy's famous Amarone is produced. In fact, many of the same techniques for producing Valpolicella are used at Comincioli.
Harvesting the fruit takes place exclusively by hand, using small crates to avoid stress and prevent squashing of the grapes. Hand-sorting is done to remove any inferior fruit. There are four harvests in a single vintage. The first harvest, from the oldest vines, is directed at grapes destined for raisining (drying the grapes before vinification to concentrate the fruit's sugars and flavors). Subsequent harvests are done on the basis of ripeness, the age of the vines, and the altitude of the vineyard. Work in the cellar is just as meticulous, with concerted effort to avoid any unwanted oxidative effects. The result is a group of unique wines that express both sense of place and purity.
Special prices based on purchase of 6-pack (mix-and-match)
~$22 Comincioli "Riviera" (Riviera del Garda DOC 2014) RED 
Drinking at its peak right now, the 2014 cuvée "Riviera" is based on a little over half the native Groppello variety with the remainder a blend of Sangiovese, Marzemino, and Barbera. The wine is aged in stainless steel tanks and oak casks. Full of juicy red and black berries with intoxicating floral and spice aromatics, it's reminiscent of the Valpolicella Ripasso from the other side of Lake Garda but with a vibe all its own. It's ideal balance will pair beautifully with most classic Italian pasta dishes.
~$38 Comincioli "Gropél" (Riviera del Garda DOC 2015) RED 
A celebration of the native grape variety Groppello rounded out with very small amounts of Sangiovese, Marzemino, and Barbera. A portion of the wine is made in the "appassimento" style of drying the grapes before vinification to concentrate the fruit's sugars and flavors. It is then aged in stainless steel tanks and oak casks. "Gropél" is a unique red wine that delivers the weight, textures, and concentration of ripe fruit that Amarone lovers cherish, with the aromatics and flavors exclusive of Valtènesi.
~$24 Comincioli "Perlì" (Vino Bianco 2017) WHITE 
The only reason this elegant white is declassified into the humble status of Vino Bianco is because Gianfranco has produced it using only the local indigenous varieties of Trebbiano Valtènesi and Erbamat, both grapes that are not allowed under DOC regulations but were introduced from obscurity into the Comincioli vineyards 30 years ago. One sip of its concentrated fruit and bracing minerality is enough to prove its bona fides as a wine of distinction and longevity. All the citrus, floral, and autumn meadow aromatics will curl your eyebrows. It's style and grace are reminiscent of the best in Lugana, on the southern shore of Lake Garda. Certainly fans of Sancerre will be impressed.
~$58 Comincioli "Suler" (Riviera del Garda DOC 2011) RED
Valpolicella is on the other side of Lake Garda from Comincioli and is world famous for the production of Amarone in the "appassimento" style. This regional style is uniquely conveyed in the cuvée "Suler." A mix of Sangiovese, Marzemino, Groppello, and Barbera grapes from Comincioli's oldest vineyards (40 to 90 years old) are placed in shallow, ventilated crates for a period of 20-30 days before vinification. After extensive aging in stainless steel tanks, oak casks, and finally in the bottle, "Suler" delivers full-bodied elegance.
- - -
Posted on 2019.10.10 in Italy, Lombardy, Saturday Sips &nbsp| Read more...
One of the most exciting producers in Rioja right now, we've always adored the wines from brothers Arturo and Kike de Miguel Blanco, third generation viticulturalists that produce wine for Artuke Bodegas y Viñedos. 
It seems that each new vintage highlights just how much growth and improvement can be accomplished when your singular focus is creating wines of freshness and purity that speak of place. Not only are the wines getting better, these new vintages have elegantly updated packaging to match.
With less than 55 total acres of vineyards distributed over 32 different plots, Artuke is most certainly a family affair. Their father still helps with vineyard maintenance, and their mother will have a plate of food at the ready for family members and visitors alike. Yet it is these two young men that have completely refocused the family winery to cultivate small vineyard plots in and around their village of Ábalos in the high elevation foothills of the Cantabrian Mountains.
Although the brothers are already working somewhat outside the established regulations of Rioja, their wines clearly reveal the characteristics of the Alavesa sub-zone, the northernmost and smallest of the three Rioja sub-zones, where the cooling influence of the Atlantic Ocean meets the warmer interior. This unique climate has the effect of ripening Tempranillo grapes with slightly thinner skins, yielding wines with superb fruit and freshness.
All prices based on the purchase of six or more bottles (mix and match).
~$14 "Artuke" (Rioja, 2018)
"Artuke" is made with the carbonic maceration method, a wine-making technique used to enhance aromatics and produce luscious, fresh, fruity wines preferred by Basques in the northern sub-zone of Alavesa. It is a blend of mainly Tempranillo grapes with about 5% of the white grape, Viura, from vineyards in the village of Baños de Ebro. The wine is fermented and aged in concrete for close to six months before bottling. It smells like a four-berry pie. This mouth-watering red wine takes a relatively deep chill which makes it a versatile pairing with all types of food: tuna, pretty much anything made with zucchini, fried chicken, gooey cheese sandwiches, pizza, etc…
~$22 "Pies Negros" (Rioja, 2017)
A blend of mostly Tempranillo with a small amount of Graciano from vines as old as 95 years, from vineyards in the village of Ábalos. Pies Negros means Black Feet, a reference to the archaic method of crushing the grapes using one's feet. Fermented with indigenous yeasts, most of the wine matured in 500-liter oak barrels for one year, with about one-quarter kept in concrete. The wine is especially pretty on the nose with a heady floral scent wrapped around candied fruit and cinnamon. A medium-bodied sip is generous and swells through the midpalate to finish with a touch of earth. A fantastic value that would pair beautifully with kibbeh nayeh.
- - -
Posted on 2019.10.03 in Rioja DOC, Saturday Sips, Spain DO &nbsp| Read more...
We have been bringing in some of the most renowned producers from the island of Corsica for years and we are quite proud of the selection we have assembled. We are excited to share the newly-arrived, thrilling wines of Yves Canarelli, featuring both new vintages of wines we have previously brought in, as well as cuvées new to this market.
Despite Corsica being France's most southerly vineyard area, it is surprisingly not its hottest. Height and wind modify the realities of latitude, demonstrated by the remarkable freshness of the best of Corsica's white wines, and the almost Burgundian grace of its best reds.
Possessing abundant freshness, complexity, and aromatic intensity, the wines of Yves Canarelli are some of the most celebrated and sought after from the island. He has always championed the restoration of native Corsican grapes. While the French government remains slow to reconsider appellation rules to allow for some of the oldest of these heirloom varieties, often forcing producers to bottle under the generic "Vin de France" designation, Yves nevertheless began tearing out entire vineyards of imported varieties and replanting with native vines shortly after taking over the family domaine in 1993. His latest ventures are with amphora-fermented wines.
Clos Canarelli's vines are located in the granite and red alluvial soil near the tiny, remote village of Tarabucetta, on the southern tip of Corsica in the appellation of Corse Figari. The ever-constant wind from the Gulf of Figari makes for challenging growing conditions, perhaps explaining why Yves Canarelli is one of only a handful of plucky producers there. Indeed, those ferocious winds help to keep the vines free from excess moisture and pests. Yves utilizes both organic and biodynamic viticulture. In the cellar, he prefers deliberate fermentations using indigenous yeasts. These wines not only advertise Corse Figari's terroir, they exhibit the intrigue of world-class wine.
All prices based on the purchase of six or more bottles (mix and match).
~$44 Rouge (Corse Figari 2016) RED
A blend of mostly Niellucciu (closely related to the Italian Sangiovese) with around 15% each of Syrah and Sciacarellu. The fruit is from 19 acres of granitic soil with vines planted in 1997.  The wine is raised in foudre for 14 to 18 months, and then bottled unfiltered. Ripe, red fruits blend with notes of spice and herbal maquis shrubland that grows on the hills of Corsica. Plum and cherry fruit show in abundance before leading to a hauntingly long and complex finish.
~$80 "Amphora" Rouge (Corse Figari 2017) RED
"Amphora" Rouge is a blend of predominately Niellucciu and Sciaccarellu with the addition of about 20% Minustellu, Carcaghjolu, and Moresconu, all from a 1.2 acre parcel of granitic soils. The wine is vinified in a clay amphora for four to seven weeks before finishing in stainless steel tanks and neutral wood barrel for seven to nine months. The wine is never filtered or fined and no sulfur is used at any time during the process. The result is a sensual wine with concentrated fruit, profoundly expressing this sunny, Mediterranean island.
$126 "Tarra d'Orasi" Rouge (Vin de France 2015) RED
"Tarra d'Orasi" is produced from vines that are over 140 years old. It is a pre-phylloxera field blend where Sciaccarellu, Minustellu, and Cinsault are co-planted in a 0.6 acre, isolated vineyard of sand and granite. Fermented and vinified in large foudres for 14 to 18 months and bottled without filtering, the wine is rich, concentrated, and an epic expression of the island. This is one of the most unique wines in the world. As you might expect, production of this wine is miniscule, subsequently, we only have a small amount available.
~$49 "Biancu Gentile" (Corse Figari 2017) WHITE
Once widely grown in Corsica and famed for its aromatic complexity, Biancu Gentile was later neglected and left on the brink of extinction. At the time of its resurrection, it is estimated there was only a single acre left under vine. Now, with the help of Yves' 1.2 acre vineyard, planted in 2000, the future of this variety is undeniable. The wine is aged in concrete eggs on its lees to coax out the richer texture and notes of exotic fruits, citrus, flowers, and Mediterranean breezes.
~$80 "Amphora" Blanc (Corse Figari 2017) WHITE
"Amphora" Blanc is 100% Vermentinu from a 1.2 acre parcel of granitic soils planted in 1997. At harvest, amphoras are filled directly with two-thirds must and one-third whole clusters and then fermented and aged for three months. The wine is then transferred to neutral barrels for a further three months of aging. The wine is never filtered or fined and no sulfur is used at any time during the process. Deep in color, flavor and aromatics, this intense wine is loaded with personality and length.
---
Domaine Comte Abbatucci Sparkling Wine
~$80  "Cuvée Empire" (Vin de France Extra Brut, 2015)
Did we already mention that Elie Wine is your Corsican connection? Where else are you going to find a sparkling wine produced from the five acre vineyard planted by Jean-Charles Abbatucci's father, Antoine Abbatucci, in the early 1960s, in an effort to save indigenous grape varieties? "Cuvée Empire" is a blanc de noirs sparkling wine produced in the traditional method from 100% Barbarossa, a red/pink variety. Fermentation takes place in a 12,000 liter foudre and the wine is aged on its fine lees for four months. A secondary fermentation takes place in the bottle for another year. The Extra Brut dosage is 4 grams/liter. We are big fans of Jean-Charles' unique and world-class wines and this one is no exception.
Click here to learn more about Jean-Charles Abbatucci and his other wines we have on offer. 
- - -
Posted on 2019.09.26 in Corsica, France, Saturday Sips &nbsp| Read more...
Colli Piacentini (Hills of Piacenza) is a wine region in the northwest of Italy near the point where Emilia-Romagna meets Piedmont, Lombardy, and Liguria. It is a storied land where viticulture has been practiced since as far back as 2000 BCE and some of the techniques that the ancient Etruscan civilization developed are still in practice today.
A top producer in the region, La Stoppa was founded in the late 19th century by Gian-Carlo Ageno, a lawyer from Genova. The estate is currently run by Elena Pantaleoni and enologist Giulio Armani. 
Elena's father purchased the estate in 1973, a lifelong dream realized. Elena joined him to work at the winery full-time in 1991.
The estate has a fascinating history of vinegrowing. Gian-Carlo Ageno was the first to plant there after purchasing the land. When the phylloxera epidemic hit, he was forced to replant in the 1920s, choosing at the time to experiment with international varieties like Chardonnay, Sauvignon Blanc, Tokay, Pinot Gris, Grechetto, Pinot Noir, and others. Although the Pantaleonis were making good wine from this fruit for a couple of decades, they realized the early-ripening characteristics of those varieties weren't suitable to produce wines that truly expressed place. In 1996 they made the decision to pull those vines and replant with local varieties Barbera, Bonarda, and Malvasia di Candia Aromatica.
La Stoppa's 79 acres of vines are grown in clay/silt soils and balanced by almost as much forested area surrounding the vines. The farming has been organic since the early 1990s with official certification in 2008. Elena believes someday that her nieces and nephews will take over the estate, so she feels like its guardian and works to preserve and maintain its sanctity.
In the cellar, indigenous yeasts are used to ferment the wines. Long skin macerations are the norm for the warm climate and sulfites are never added during vinification. Stainless steel, cement, and wooden tanks are used for fermentation with both large and small barrels used for aging. Elena eschews DOC classifications, believing that the DOC regulations are too inclusive in terms of permitted varieties, geographical boundaries, and production techniques. She chooses to bottle her wines under the broader classification Indicazione Geografica Tipica (IGT) instead.
Indeed, every aspect of production is focused toward producing wines with the identity of Colli Piacentini. German philosopher Hans-Georg Gadamer once wrote, "Culture is the only good of humanity that divided between us all, instead of diminishing, will become greater." It is a concept that Elena Pantaleoni puts into practice everyday.
All prices based on the purchase of six or more bottles (mix and match).
~$21 "Trebbiolo" (Vino Rosso 2017) RED
First produced in 1988, the name "Trebbiolo" comes from the vines' proximity to the Trebbia river, about two miles west of the estate. It is the traditional blend of Colli Piacentini, 60% Barbera and 40% Bonarda, obtained from a selection of the larger berries, and the younger and lower parcels. The vines are 7, 15, and 40 years old. Fermentation and aging occurs in stainless steel and cement tanks. A downright poundable wine with aromas of sweet black cherry and sun-drenched terra cotta. A sip is full of voluptuous fruit with plenty of acid to balance it out and just a hint of tannin on the finish. A stellar wine to pair with pretty much any carry-out dinner, especially if it's pizza.
~$38 "Macchiona" (Emilia Rosso IGT, 2011) RED
La Stoppa's flagship wine produced since 1973 is a blend of 50% Barbera and 50% Bonarda from vines 15 and 40 years old. "Macchiona" is the name of a farmhouse found among the most traditional vineyards of the Colli Piacentini. The wine sees 40 days maceration on skins in stainless steel and/or cement tanks before aging in Slavonian oak barrels of 1,000 and 2,000 liters as well as 4,000 liter wooden tanks. The wine is not filtered and no sulphites are added. Heady aromatics of summer berries, rose, allspice, and earth precede a medium-bodied sip with serious mineral length. With eight years of time since harvest, the wine is fully integrated, mature, and drinking at its peak.
~$38 "Ageno" (Emilia Bianco IGT, 2013) WHITE
Named after the founder of La Stoppa, Gian-Carlo Ageno, the blend is 90% Malvasia di Candia Aromatica finished with 10% Ortrugo and Trebbiano. "Ageno" is a skin macerated "orange wine" produced since 2002 — well before orange wines became the new thing. The wine sees around four months maceration on skins in stainless steel and/or cement tanks before aging in 4,000 liter wooden tanks. The wine is not filtered and no sulphites are added. Flowers, sweet citrus, and orchard fruits play alongside an herbal musk. The extended skin contact creates a warm-climate white with the textures and length of a red wine. Depth, complexity, and minerality abound.
- - -
Posted on 2019.09.19 in Emilia-Romagna, Italy, Saturday Sips &nbsp| Read more...
The story of Domaine Lafouge goes back centuries. It was established in 1650 in the village of Auxey-Duresses, just west of the vineyards of Meursault. Although the family has been producing wines from village and premier cru vineyards for several generations, it was only when Gilles Lafouge joined his father after wine school that the domaine focused on bottling wine under the family name. While the wines o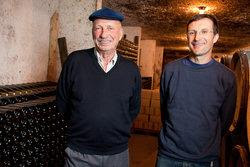 f Lafouge are still somewhat under-the-radar, they have a track record for consistency and exceptional expression of place.
The 24 acre estate consists of outstanding old-vine vineyards in Auxey-Duresses as well as small parcels in Meursault and a Premier Cru plot in Pommard. The approach to vineyard management is lutte raisonée (reasoned struggle) and includes plowing to both force the roots deep and reduce the need for herbicides. The soils are also treated with organic compost. Vinification is done with a philosophy of minimalism. The wines are fermented with indigenous yeast and maturing is done mainly in old barriques with a small percentage of new oak, depending on the cuvée.
Gilles Lafouge is clearly on his way to becoming a member of an exclusive group of the very top-tier of producers in Côte de Beaune. We're pleased to offer his wines before the price reaches that same tier.
All prices based on the purchase of six or more bottles (mix and match).
~$49 "La Chapelle" (Auxey-Duresses Premier Cru, 2016)
100% Pinot Noir from "La Chapelle," a 3.2 acre climat located almost entirely within the Premier Cru of "Reugne" and notable as one of the top vineyards in Auxey-Duresses. The vineyard boasts vines mostly 50 to 70 years old. Auxey-Duresses may be the most underrated commune in the Côte de Beaune, quite often offering unusually good value given the price. And this wine definitely fits the category with delicate yet heady aromas of macerated cherries, earth, and spice. A sip is all firm, concentrated fruit alongside crunchy minerals and silky tannins.
~$71 "Les Chanlins" (Pommard Premier Cru, 2016)
100% Pinot Noir from an 80-year old parcel on a steep slope of eroded soils of iron deposits, facing east, at 900 feet of elevation. "Les Chanlins" lies ideally next to Pommard's most esteemed Premier Cru vineyard, "Les Rugiens." Legend has it that Victor Hugo, famous French poet, novelist, and dramatist of the Romantic movement, was so smitten with Pommard that he described the wines as "night in combat with day." Perhaps Victor was drinking wine from a Lafouge property when he came up with the notion. Deeply layered, concentrated, and full of life, the wine is still quite primary but its intoxicating aromas of fruit liqueur and rose petals predict an extraordinary drinking experience with robust decanting or time.
~$62 "Les Casses-Têtes" (Meursault 2016)
100% Chardonnay from the hillside lieu-dit "Les Casses Têtes," located on the slope above the renowned Premier Cru "Les Gouttes d'Or." The wine owes its name to the rocky soils, where it was necessary to "break heads" (casser les têtes) of rocks on the surface in order to plant vines. The resulting wine is bursting with vibrant energy. Aromas of lemon, pear, spring meadows, and wet stone rise above a sip that is crystalline and exceptionally long in its mineral finish. Drink now with a vigorous decant or allow it to develop in the cellar over the next ten years.
- - -
Posted on 2019.09.12 in France &nbsp| Read more...