Charming Provence. Between olive groves and pine forests the rocky landscape is wild with the fragrant garrigue that marks its wines. This picturesque southern French region on the Côte d'Azur is famous for its rosé, but with a little bit of digging, and some guidance from your favorite local wine merchant, you can find some of France's most structured, age-worthy red wines. Although relatively small, Bandol is easily Provence's most important appellation.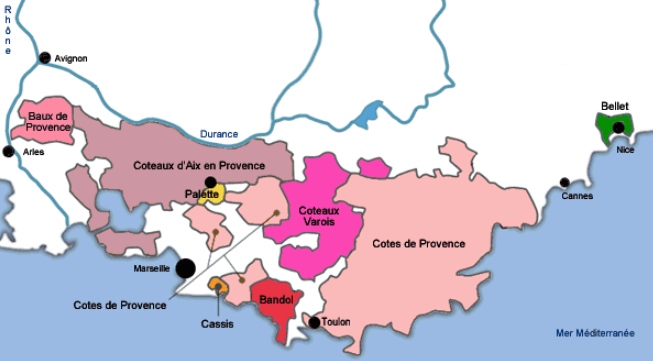 Bandol wine is grown in small quantities in the limestone hills near the village of Bandol, east of Marseille and west of Toulon. It's sun-soaked southerly terraces brushed with Medditerranean breezes are ideal for cultivating Mourvèdre — a grape variety with one of the longest growing cycles, but when fully ripened has the potential to create some of the most substantial and long-lived wines on our pale blue dot. Being one of mainland France's driest, sunniest climates, fungal diseases are not the perennial threat they are elsewhere, making the region well-suited to organic viticulture. Bandol red wines must be at least 50 percent Mourvèdre, with the remainder generally blended with the classic grapes of the Mediterranean: Grenache, Cinsault, Syrah, and Carignan.
We are pleased to offer a selection of exceptional wines that speak of sunny Provence. Included in the package are wines from Bandol's top producers, with four bold and meaty red wines that you can enjoy now or ten years from now, a rare white Bandol, and the pinnacle of Provence rosé, a Bandol rosé. It's an ideal sampler of all the appellation has to offer.
Included in Provence's Standout Cru 6-Bottle Package are one each of the following wines:
The price includes a 10% discount, tax, and delivery. We will also honor a 10% discount on any bottles you might wish to add to the package.

Domaine Tempier 
One of the oldest family-run estates in the region, Domaine Tempier is also the most recognized. The family was largely instrumental in getting the appellation of Bandol established in 1941. Bandol RED 2018 (Regular $56) is the quintessential expression of Mourvèdre, grown on terraced vineyards on steep hills around the "plan du Castellet." The wine is full of fruit and earthy flavor, coupled with fine-grained tannins, and a complexity from the multiplicity of soil types that surround the estate, from pure limestone to ancient sandstone and limestone marls. The wine is a blend of Mourvèdre (around 75%), with Grenache and Cinsault, and, in small proportions, Carignan and Syrah, with vines at an average of 35 to 40 years old.
Domaine de la Tour du Bon 
Agnès Henry is the winemaker and owner of Domaine de la Tour du Bon. Although the estate has been in the family since 1968, it is Agnès that has cemented its current acclaim. Her 42 acres are a mix of red earth, clay, sand, and gravel that all rest atop a limestone plateau near the village of Le Brûlat. Agnès calls her Bandol RED 2016 (Regular $38) true "blood of the earth." The blend is 53% Mourvèdre, 27% Grenache, 10% Cinsault, and 10% Carignan from extremely low-yielding vines. The Grenache adds a light cherry fruit to balance out the striking power of the Mourvèdre, while the small additions of Cinsault and Carignan work to bind the two main varieties. Fragrant with citrus and flowers, Bandol WHITE 2018 (Regular $35) is 75% Clairette, 15% Ugni Blanc, and 10% Rolle from very low yielding vines. It's full-bodied but not heavy on the palate with a mineral finish that shows a hint of fennel.
Domaine de Terrebrune
Reynald Delille heads this lauded estate nestled among the foothills of the limestone massif of Gros Cerveau. Certified organic, the estate's terroir is characterised by the presence of limestone in its brown clay soil which inspired the estate's name. With Mourvèdre accounting for 85% of the final assemblage, Reynald's Bandols have an ethereal quality to them — the vineyards lie directly in the path of marine breezes that sweep off the Mediterranean, providing his wines with a mouthwatering saline quality. Bandol RED 2016 (Regular $54) is a fine example. With flavors of black fruit, anise, and wild herbs, its rich texture seems effortless, and its minerality profound.
Domaine du Groś Nore 
Born in a small house set among the vineyards of Bandol, Alain Pascal always knew he wanted to be a farmer. He bottled his first estate wines in 1997. From the very beginning, Alain produced his wines with minimal intervention — bottled without filtering and fermented with indigenous yeasts. Cultivation is essentially organic, as no chemicals are used on the vines. To provide power and concentration, Alain uses 80% Mourvèdre in Bandol RED 2016 (Regular $47), his flagship cuvée. The rest of the blend is 15% Grenache and 5% Cinsault. The wine is fermented in stainless steel vats and then aged for 18 months in large oak foudres. It has a lovely, elegant nose of jellied black cherry fruit and mediterranean herbs. It's bold yet supple on the palate with concentrated fruit, clean earth, stone, and refined tannins.

La Bastide Blanche 
In the early 1970s Michel and Louis Bronzo acquired Bastide Blanche with the goal of producing Bandol wines of comparable quality to southern France's more renowned appellations at the time. Today they are recognized as one of the top producers in the country. Low yields and an impeccable cellar help to create some of the most expressive wines of Bandol. Bandol ROSÉ 2019 (Regular $27) is classy and classic Provençal rosé. Mourvèdre is the base grape with about equal parts Cinsault and Grenache from fruit hand-harvested off of vines growing in clay-limestone soil. Notes of red berries, blood orange, and fresh cut herbs dominate this savory and balanced wine.
- - -
Posted on 2021.03.03 in France, Wine-Aid Packages, Provence &nbsp| Read more...
We are pleased to offer a selection of wines that represent a marriage of grapes and ground that the French regard as mystical. It's in the sandy clay soils over granite of Beaujolais that the Gamay grape finds its truest expression, in the right hands producing red wines that are fresh, vivid, light and fruity, yet possessing a soulful depth and sense of place. It is a wine that is somehow simultaneously uncomplicated and consequential.
Included in the package are wines from eight of Beaujolais' ten Cru appellations — known for their extraordinary soils and microclimates and the capability of producing the most remarkable wines of the region. Although these are all Gamay-based wines, they are produced using many of the traditional methods practiced in Burgundy, including a focus on healthy vineyard ecosystems with the goal of making wines that express their terroir.
Light, refreshing, with moderate alcohol, lively acidity, and served with a slight chill, these are wines versatile enough to complement nearly any dish. Indeed, France's gastronomical center, the city of Lyon, is just a short drive south of Beaujolais on the A6. From Mediterranean Provence to Alscace and Lorraine, many different culinary influences have converged to become what is known as Lyonnaise cuisine. The locals love their Beaujolais with cheeses and cured sausages, potatoes pan-fried in butter, and Coq au Vin. You will too.
Included in Burgundy's Alter Ego 10-Bottle Package are one each of the following wines:
The price includes a 15% discount, tax, and delivery. We will also honor a 10% discount on any bottles you might wish to add to the package.
Beaujolais-Villages 
Although Beaujolais-Villages is considered "lesser" when compared to the 10 Crus, it can be a source of great value when the wines are made by accomplished producers. And they don't get much more accomplished than the two we have to offer here.
A living legend in Beaujolais, Jean Foillard is a traditionalist who has returned to the old practices of viticulture and vinification: starting with old vines, never using synthetic herbicides or pesticides, harvesting late, rigorously sorting to remove all but the healthiest grapes, adding minimal doses of sulfur dioxide or none at all, and refusing both chaptalization and filtration. Jean Foillard 2019 (Regular $29) Beaujolais-Villages consists of a blend of several granite terroirs on the outskirts of the cru villages, mostly high in the hills where Gamay once failed to ripen consistently. With today's climate, ripening is no longer a concern, even in these cooler sites. Consider this wine a lighter, brighter, higher-toned sibling to the domaine's benchmark Morgon.
Cousin to Vicomte Liger-Belair of La Romanée fame, in 2001 Thibault Liger-Belair took over storied family property in Nuits-Saint-Georges. In 2008, Thibault decided to deploy his talent and knowledge in Beaujolais. Thibault Liger-Belair "Les Jeunes Pousses" 2017 (Regular $31) is Thibault's basic cuvée, made with fruit from the granite soils of the northern part of the region. It begins powerfully fragrant with violets and dark cherries. Although easy to drink, as Beaujolais-Villages ought to be, there is a vein of iron-metallic energy at the wine's core leading all the way to a finish of crunchy ripe tannins. This is a Beaujolais-Villages with the gravitas of the Côte de Nuits.
Chénas
Chénas produces a tender wine that can age surprisingly well. You don't see much Chénas in your local wine shops as very few good examples are imported to the states. One exception is Domaine Pascal Aufranc "en Rémont, Vignes de 1939" 2018 (Regular $20). Planted in 1939, the "en Rémont" vineyard is one of Chenas' finest, with classic granitic soils covered in sand. The vineyard is completely isolated, surrounded by fields and woods, which allows Pascal to cultivate his vines without potential interference from his neighbors. This old-vine fruit makes an intense, mineral-accented wine with dark berry aromas mingled with violets and wet earth. In the mouth it is sappy, precise, and lengthy.
Chiroubles
Chiroubles' position is unique, as it is at the very highest altitudes of Beaujolais and the fruit takes about a week longer to ripen than elsewhere, which tends to produce wines of complexity, even in their youth. A pioneer in the under-valued appellation of Chiroubles, Damien Coquelet started his own Domaine at the tender age of 20. He also has some fantastic parcels in the famous Côte de Py in Morgon. Damien Coquelet "Vieilles Vignes" 2016 (Regular $35) is from vines over 50 years old growing in granite soils. The wine sees long semi-carbonic macerations and maturation in Burgundian barriques. Bright aromas of ripe raspberry, cherry, violet and citrus precede a lively mineral attack with a finish that is sappy, earthy, and long.

Côte de Brouilly
Côte de Brouilly sits on the hillsides of Mont Brouilly, a prehistoric volcano that left blue schist stones and volcanic rock along its slopes. The fruit tends to ripen fully even in cool vintages, producing structured and elegant wines. Nicole Chanrion took over the family domaine in 1988. She works all 16 acres entirely by herself, from pruning the vineyards and driving the tractors to winemaking and bottling. She employs the traditional winemaking techniques of the Beaujolais: hand harvesting, whole-cluster fermentation, aging the wines in large oak foudres for at least nine months, and bottling unfiltered. She is affectionately referred to as "La Patronne de la Côte," or the Boss of la Côte. Domaine de la Voûte des Crozes 2019 (Regular $24) is powerful, with loads of pure fruit character and floral aromas.
Fleurie
With a concentration of good producers and particularly fine terroir, Fleurie is another great source of Cru Beaujolais. Fleur means flower in French, and the wines of Fleurie are quite often characterized by a distinct floral note. Jean-Paul Brun started Terres Dorées in 1979 and is one of the region's champions of what might be described as traditional Beaujolais. His wines are fermented with natural yeast and he has also always eschewed the relatively modern technique of carbonic maceration in favor of traditional Burgundian vinification. Expressive from start to finish with hints of clove and cherry, Terres Dorées "Grille Midi" 2016 (Regular $31) is from the famous lieu-dit of Grille Midi — a south-facing amphitheater of vines on poor, sandy, decomposed-granite soils over hard granite rock.
Juliénas
Juliénas is another Cru known for its sturdy wines with aging potential. The typical characteristic of Juliénas is deep red cherries, which transform with a few years of bottle age into nuanced flavors that tend towards cassis. Laurent Perrachon et Fils, "Les Vignes Centenaires" (Regular $32) is from a two-acre parcel of century-old vines. It is powerful, sinewy, and packed with sappy fruit. With a nod toward toward Burgundy, seventh-generation winemaker Laurent Perrachon uses indigenous yeasts and a long maceration time to extract the broadest palette of flavors, complexity, and structure. The wines are aged in the estate's vaulted cellars that were built in 1701.
Morgon
Thanks chiefly to its granitic soils, the wines of Morgon have great weight and structure. It is also blessed with an extraordinarily range of excellent producers. Daniel Bouland is one of them. He farms about 17 acres of old vines and his wines are notable in their ability to develop over time into wines as expressive as those from villages to the north in Burgundy. All fruit is hand-harvested and vinified with full clusters to extract the full depth of expression. The wines are bottled unfiltered. Daniel Bouland, "Pré Jourdan – Foudre No. 7" Morgon 2019 (Regular $41) is a newly acquired lieu-dit located near Fleurie with 70-year-old vines. The entire batch aged in a five-year-old foudre was purchased by the US importer after the inaugural 2018 vintage, making this wine exclusive to the states.

Moulin-à-Vent 
Moulin-à-Vent is considered the sturdiest, most tannic, and longest-lived among the 10 Crus of Beaujolais. But don't expect the kind of hairy-teeth tannins you find in highly structured Cabernet Sauvignon-based wine. Moulin-à-Vent wines are still made from Gamay so they'll never be that tannic. Domaine Diochon "Vieilles Vignes" 2019 (Regular $28) does contain some tannin—it wouldn't be young Moulin-à-Vent if it didn't—but it is beautifully integrated, not heavy, with fruit and floral aromas, and ready to drink now if given a little time to breathe. The wine is made from vines planted in 1920, 1950, and the 1960s, so yields are naturally small. Look for a pronounced mineral component from crumbly granite soils.
Saint-Amour
Saint-Amour is the most northerly Beaujolais Crus, bordering the Mâcon region of southern Burgundy. Saint-Amour can be an intensely red-fruited wine and Pierre-Marie Chermette "Les Champs-Grillés" 2018 (Regular $34) is a fine example. Notes of raspberries, rose petals and cherries lead to a drink that is layered and spicy, with a muscular spine of fine tannins. Strict traditionalists, Pierre-Marie and Martine Chermette were among the first in Beaujolais to use sustainable agricultural practices, shunning the use of chemicals in the vineyard and encouraging as much life in the soil as possible. The wines are made with minimal intervention: wild yeasts, minimal sulphur additions, and no filtering if possible.
- - -
Posted on 2021.02.24 in France, Beaujolais, Wine-Aid Packages &nbsp| Read more...
Châteauneuf-du-Pape is quite often the gateway region that introduces curious wine drinkers to the essence of terroir. An almost perfect union of soils, climate, and grape varieties combine to create one of the world's great red wines that tends to be expressive from youth to maturity, with an exuberance and sophistication rarely matched. The next best thing to a great Châteauneuf-du-Pape is a less expensive, yet superb bottle of Southern Rhône red wine from nearby appellations that costs a fraction compared to its more prominent cousin.
The Rhône River stretches from the Alps to the Mediterranean through an incredibly diverse expanse. At its southern end, between the cities of Vienne and Avignon, rolling hills meet plateaus of varying elevation under the toasty Mediterranean sun. Long, warm summers and mild winters allow the region's dominant grape variety, Grenache, to yield good concentration via stony soils and low rainfall. This is the region of France's most user-friendly wines.
We are pleased to offer a box of easy-drinking yet refined red wines from Châteauneuf-du-Pape's sister Cru villages. These are wines with a warmth ideal for pairing with hearty meals and cold winter nights. The appellations of Cairanne, Gigondas, Lirac, Rasteau, and Vacqueyras are all capable of producing wines of superior quality that often rival their more celebrated neighbor, and are made with similar strict and rigorous regulations.
Included in Southern Rhône Riches 10-Bottle Package are two each of the following wines:
The price includes a 15% discount, tax, and delivery. We will also honor a 10% discount on any bottles you might wish to add to the package.
Vacqueyras
The second Côtes du Rhônes Villages to be upgraded to Cru status and a stone's throw across Vaucluse from the famed vineyards of Châteauneuf-du-Pape, Vacqueyras sits beneath the jagged, lacy peaks of the Dentelles de Montmirail rising up in the east. 70% Grenache, 20% Syrah, 10% Mourvèdre and Cinsault, Serge Férigoule's Domaine Le Sang des Cailloux 2018 (Regular $45) is easily one of the best of the type. The fruit is organically farmed on the great Plateau des Garrigues, where red clay, limestone, and the famous galets roulés, or rounded stones, impart an intensity and depth to the wines. The wine is dark, rich, full-flavored, wild and chewy, with notes of leather, spicy garrigue, and smoky, black fruit.
Cairanne
Cairanne (elevated to cru status in 2016) is perhaps the most promising and exciting subregion in Southern Rhône today. The village is situated atop a range of low hills with ideal exposure. It's elevation ensures slightly cooler temperatures than much of the region and lends a brightness and delicacy to the wine. Marcel Richaud's Domaine Richaud 2018 (Regular $37) is an organically certified cuvée that aims to express the village's terroir from soils of poor, stony clay-limestone on mid-slope plots. A blend of Grenache, Syrah, Mourvèdre, and Carignan from 40 to 70-year-old vines, the wine is fermented and aged primarily in concrete tanks, with a portion in oak barrels, then bottled unfined and unfiltered with only a small amount of sulfites. The result is a wine that is both rich and electric, with complex aromas of fruit (both fresh and preserved) and herbal spice. A sip fills the mouth with ripe berries and licorice riding a mineral spine.
Lirac
Situated in the low-lying hills on the right bank of the Rhône River directly across from Châteauneuf-du-Pape, Lirac reds are elegant, well-balanced, and structured. Domaine Pierre Usseglio, now run by his sons, Jean-Pierre and Thierry, has risen to such prominence over the past two decades, it must be considered as not only one of the top addresses in Southern Rhône but in all of France. Domaine Pierre Usseglio 2018 (Regular $37) is a blend of 60% Grenache, 15% Syrah, 15% Mourvèdre, and 10% Cinsault from clay and pebble soils. The vines are around forty years old. The wine is aged in concrete vats and demi-muids over a period of 12 months to produce a sturdy, solidly built drink loaded with notes of plum, cola and spice. It's full-bodied, finishing warm and velvety.
Rasteau
The village of Rasteau was awarded cru status way back in 1944 for their sweet, Vin Doux Naturel. It took a little longer to see the hard work and determination of the region's vignerons to be awarded cru status for their deeply-colored, robust, dry red wines but now the appellation is considered one of Southern Rhône's best. Traditional winemakers Daniel and Frédéric Coulon hold around 60 acres in the Rasteau appellation. All of Domaine de Beaurenard's vines are certified biodynamic. In the vineyards, these methods involve working the soil without herbicides, spreading carefully-dynamised manure, and maintaining sensible grass cover. Domaine de Beaurenard 2017 (Regular $32) is all herbal and red cherries. A blend of 80% Grenache, 17% Syrah, and 3% Mourvèdre, it's medium to full-bodied, creamy and supple.
Gigondas
Gigondas is the first Côtes du Rhônes Villages to be upgraded to Cru status (1971). It borders Vacqueryas to the northeast and lies within the protection of the toothy, lacy, and majestic rock faces of the Dentelles de Montmirail. Think of it as Châteauneuf-du-Pape from higher, rockier ground. A blend of 80% Grenache and 20% Syrah, Pierre Amadieu "Romane Machotte" 2018 (Regular $30) comes from vines averaging 45 years old growing in alternating Cretaceous limestone and marl soils with a northwest exposure at an altitude of almost 1,000 feet. It ages 12 months in oak foudres and barrels. Berry salad flavors are enveloped in soft yet powerful tannins, mingling with scents of Provençal wild herbs.
- - -
Posted on 2021.02.17 in France, Wine-Aid Packages, Southern Rhone &nbsp| Read more...
The northwestern Spanish wine production zone of Ribeiro is undergoing a renaissance. One of the vanguard producers of this movement is the Bodega of Coto de Gomariz located in the Avia valley in the autonomous community of Galicia. A unique microclimate that is influenced by both Atlantic and Continental factors allows the region's native grapes to fully ripen and develop a floral, aromatic complexity while keeping the mouthwatering freshness that Galician wines are known for.
Galicia is one of the few oceanic climate production zones with a wealth of native grapes used in their wine. These varieties are so well-suited to their unique environment you rarely see them used elsewhere. Indeed, you're likely never going to see a supermarket sign pointing you to the huge selection of Sousón or Ferrol-based wines. Because of Galicia's landscape of mountains and sea, the cuisine is broad and diverse. As such, the region's wines pair well with a myriad of dishes, from fish to fowl to filet.
Coto de Gomariz was created in 1978 by the Carreiro family. They began the area's resurgence by recovering a vineyard that Cistercian monks had established in the 10th century. Today, they own close to 70 acres of vineyards. Coto de Gomariz winemaker Xosé Lois Sebio is one of the most admired and exciting names in Ribeiro. He employs both organic and biodynamic viticulture practices in the vineyards and all wines are fermented with indigenous yeasts.
Shisteous, granitic, and sandy soils, steep slopes, tiny yields, a unique microclimate, and the farming of the native red and white grapes of the region has allowed Coto de Gomariz to produce some of the most distinctive and expressive wines in Ribeiro.
Included in the Fanfare for the Uncommon Varieties 6-Bottle Package are one each of the following wines:
Price includes a 10% discount plus tax and delivery. We will also honor a 10% discount on any bottles you might wish to add to the package.
Sebio Wish, (Galicia 2016) RED, Regular Price: $43
Made only during warm vintages, "Wish" is a tribute to the pioneering post-punk band The Cure, who accompanied Xosé Lois Sebio through his youth. It is also named after the aspiration to make a single wine with fruit from very old strains growing on a plot at the limit of Ribeiro on the steep, terraced Penelas slope oriented to the northwest. This plot is always last to be picked, yet in warm years it produces a wine of fresh, floral, and fruity intensity reminiscent of Côte Rôtie. A blend of 50% Ferrol, 35% Caiño Longo, 10% Sousón, and 5% Bastardo fermented with indigenous yeasts and aged for 14 months in French Oak barrels for a wine with gorgeous aromatics of lilac, high-toned fruit, and distinct minerality. Only 94 cases produced.
VX Cuvee Caco (Ribeiro 2015) RED, Regular Price: $41
VX or "experimental wine" was the name written on the first barrels aged at Coto de Gomariz, and Caco is the nick-name of Ricardo Carreiro´s father. It is a blend of 50% Sousón, 30% Caiño Longo and Caiño da Terra, 15% Carabuñeira, and 5% Mencía from the "A Ferreira" estate vineyard re-planted with local varietals in 1994. Fermented with native yeasts and aged for 20 months in new French 500 liter oak barrels. Fragrant spiced dark berries and licorice on the nose precedes a sip that offers depth and focus with a hint of vanilla and framed by supple tannins. Only 208 cases produced.
Abadía de Coto de Gomariz (Ribeiro 2013) RED, Regular Price: $28
Abadía de Gomariz is a blend of 50% Sousón, 25% Brancellao, 20% Ferrol, and 5% Mencía from the village of Gomariz where soils are granitic with schist and clay. Though fermented in stainless steel, the wine is aged for one year in 500-liter used oak barrels, mostly of French origin, to tame some of the hairy tannins that Sousón can exhibit. A sip is juicy little forest berries with a long and winding cherry pit finish. On the nose, the berry fruit is sweeter with hints of licorice and cream. On the label is the coat of arms of the Abbey Gomariz — the oldest civil building for winemaking in the Iberian Peninsula. Only 1,600 cases produced.
"The Flower and the Bee" (Ribeiro 2018) RED, Regular Price: $20
This miniscule production everyday red comes from younger Gomariz vineyards planted with the native variety Sousón in mostly granitic soils. Fermented with native yeasts and aged for 4 months in barrel, this wine is the entry level of Gomariz, yet expresses the same identity of the Avia Valley terroirs as its more ambitious siblings. It's a versatile wine full of ripe dark berry aromas with a pinch of herbs and spice and a bright finish. The lively label represents both the origin of vine fertilization, as well as the estate's respect for nature. Only 1,250 cases produced.
Finca O Figueiral (Ribeiro 2017) WHITE, Regular Price: $37
70% Treixadura, 10% Godello, 10% Lado, 5% Loureira, and 5% Albariño from the single estate vineyard "O Figueiral" in Gomariz grafted with local grape varieties in 1978. The terroir is mostly clay with a subsoil of schist. Free-run juice begins fermentation in stainless steel vats and finishes in new 500 liter French Oak barrels. It is then aged over fine-lees for 10 months with periodic battonage to build body while maintaining balance. Melon, peach, and tangerine aromas with floral overtones precede a stony and precise, lush yet lively wine. Only 275 cases produced.
"X" (Ribeiro 2019) WHITE, Regular Price: $30
"X" is a blend of 95% Albariño and 5% Treixadura named after the schist soils (xisto in Gallego) where the grapes are grown. This single vineyard wine comes from fruit grown in the "As Penelas" plot. Free-run juice is fermented with native yeasts and then aged in stainless steel vats. Aromas of yellow fruit and honey with a touch of lemon pith precede a fleshy mid-palate, offering vibrant citrus and orchard fruit flavors braced by juicy acidity and a finish of nervy minerality. This is the kind of white wine that will please just about everyone. Only 400 cases produced.
- - -
Posted on 2021.02.10 in Spain DO, Wine-Aid Packages, Ribeiro &nbsp| Read more...
A grape variety born in Bordeaux, Merlot often gets a bad rap due to the glut of simple, fruity wines that bear its name lined up on party store shelves. But when the soils and climate are ideal, and production is focused on quality, the variety is capable of making some of the most expressive wines in the world. Situated on the north side of the Dordogne River near the city of Libourne, 
the soils of mainly clay and limestone that cover the "Right Bank" Bordeaux appellations of Pomerol and Saint Émilion are capable of producing wines that reveal the complete range of the Merlot variety and are the reference points for the rest of the world.
While many of the wines of Pomerol and Saint Émilion are out of reach for the typical consumer, the entire area known as the Right Bank offers excellent quality and value through the important satellite appellations surrounding them. These often overlooked appellations produce wines with similar characteristics as the big two, with many of the top producer's efforts surpassing expectations. We're pleased to offer this boxful of wines illustrating the sublime characteristics of Merlot from its birthplace terroir.
Included in Merlot Glory: The Bounty of Bordeaux's Backcountry 6-Bottle Package are one each of the following wines, two bottles of each wine (and a deeper discount) will be included in the 12-bottle package:
The discounted price includes tax and delivery. We will also honor a 10% discount on any bottles you might wish to add to the package.
Lalande de Pomerol
Lalande de Pomerol produces reds that, at their best, mimic Pomerol's robust, earthy flavors at a fraction of the price. While there is more variation in terroir within the two appellations than between them, Lalande tends to have more gravel and sand compared to Pomerol's heavier clay soils. Château Les Cruzelles 2016 (Regular $45) is an ample wine from perfectionist proprietor Denis Durantou, who is known for his celebrated Pomerol estate Château l'Eglise Clinet that is less than a mile away. A blend of 60% Merlot and 40% Cabernet Franc, it's a hearty wine full of black raspberries, dark and juicy plums, and hints of cocoa and floral accents.
Castillon – Côtes de Bordeaux
Next-door neighbor Saint-Émilion has had a huge influence on Castillon. Saint-Émilion growers and chateau owners have taken advantage of lower-vineyard prices in Castillion to produce serious Saint-Émilion-style wines for a fraction of Saint-Émilion prices. Another beautiful bottle from star winemaker Denis Durantou of Château l'Eglise Clinet is Château Montlandrie 2016 (Regular $42). A blend of 65% Merlot, 20% Cabernet Franc, and 15% Cabernet Sauvignon, from terroir of clay and limestone soils on the plateau of Cotes de Castillon. Fresh herbs, dark cherry and floral notes precede cherry liqueur, licorice, and spice that meld well with its ripe, elegant style.
Francs – Côtes de Bordeaux
Closer to Bergerac than the city of Bordeaux, Francs is a small jewel located next to Castillon. It is the smallest and most rural region at a little over 1,000 acres. 100% Merlot, Château Marsau 2016 (Regular $35) comes from vineyards with a terroir of clay, limestone and sandy soils. The vineyard is well situated on a slope that is close to the peak of the appellation's plateau with an elevation of over 300 feet. The vines are on average 35 years of age. The wines are aged in 30% new, French oak barrels for 12 months before bottling to produce a wine of depth, tannin, roundness and plenty of ripe, smoky black cherries and plummy fruit from start to finish.
Fronsac
The appellation of Fronsac is another of Bordeaux's lesser known winemaking regions. It is an area of back-country roads and tiny vineyards a stone's throw from Pomerol and Saint-Émilion. Indeed, Fronsac is five times smaller than Saint-Émilion, with a more homogenous terroir of limestone and clay — "Fronsac molasses" it's sometimes called by the grape farmers that toil its vineyards. In the right hands, wines made in Fronsac can be as good as many of the wines from its big-name neighbors. Château Clos du Roy 2018 (Regular $25) is one of them. 90% Merlot, 5% Cabernet Franc, and 5% Cabernet Sauvignon aged in 30% new, French oak barrels for 12 months produce a balanced wine full of fresh fruit, juicy acidity, and muscular tannin.
Montagne Saint-Émilion
Montagne-Saint-Émilion is the largest of the Saint Émilion satellite villages, and many consider it the best. It is also the location of one of France's top viticultural research colleges. Clos de Boüard is the newest project for Coralie de Boüard, owner of La Fleur de Boüard in the Lalande de Pomerol appellation, and daughter of Hubert de Boüard of the famous Château Angelus. The estate's vines are an average of 35 years old. They also have very old vines that range from 60 to 70 years of age. Château Clos de Boüard "Dame de Boüard" 2018 (Regular $24) is the second wine of Clos de Boüard and a blend of 60% Merlot, 30% Cabernet Franc, and 10% Cabernet Sauvignon. Fresh, bright fruits, chocolate and licorice work together perfectly in this forward, open, and easy to drink wine.
Blaye – Côtes de Bordeaux
Blaye was an important river port in Roman times, and today, the Citadel of Blaye is a UNESCO World Heritage Site. It is a source of lovely and accessible red wines, driven by fresh fruit. Biodynamically cultivated since 2008 by nature-loving winemaker, Bruno Martin, Château Roland La Garde "Tradition" 2016 (Regular $23) is a blend of 80% Merlot and 20% Cabernet Sauvignon from vines 20 years old grown in clay and limestone soils. Two-thirds of the wine ages in barrels while one-third ages in vat for 12 months. It is a wine with finesse and harmony, good balance, and a tannic structure that highlight the aromas of red fruits.
- - -
Posted on 2021.02.03 in France, Bordeaux, Wine-Aid Packages &nbsp| Read more...