The roots of Domaine Saint Préfert can be traced back almost a century. Founded in the 1920s, it quickly earned renown for superior quality, and even became one of the first wines exported from southern Rhône into the United States.
The modern era for Saint Préfert began in 2003 with the first release by Isabel Ferrando. Born and raised in Provence, Isabel led a comfortable life as a senior manager for a large bank before she realized that the vineyards in the south were calling her home and she returned to school to study viticulture.
 She purchased the estate in 2002, at the time 32 acres of vineyards all in the far south of the appellation in the lieu-dit "Les Serres" below the village of Châteauneuf-du-Pape.
Isabel's reputation has grown every vintage since her first release and her wines have become reference points for Rhône quality and expression. Some of her success comes from the fact that she has very old vines in her holdings — the Grenache vines average more than 70 years old, and she still has some of the original Mourvèdre that was planted in the 1920's.
The vines are cultivated organically. In the past decade, Isabel has begun working with whole-cluster fermentation with indigenous yeasts, moving away from bigger, extracted wines into realms of lowered alcohol and increased freshness. These current vintages of Domaine Saint Préfert reflect this focus on balance while at the same time expressing the sun and soils of a storied appellation.
All prices based on the purchase of six or more bottles (mix and match).
~$21 "Clos Beatus Ille" (Côtes-du-Rhône 2017)
85% Grenache and 15% Cinsault from La Lionne, in the Sorgues district, just south of the village of Châteauneuf-du-Pape. The fruit is 100% destemmed and both fermented and aged in cement tanks. The wine is medium-bodied, juicy, and balanced with loads of berry fruit and flowers.
$45 Châteauneuf-du-Pape (2015)
A blend of 85% Grenache, 5% Cinsault, 5% Syrah, and 5% Mourvèdre from the youngest vines (30 years and younger) in the "Les Serres" lieu-dit. The wine underwent 100% whole-cluster fermentation and was aged 15 months in cement tanks. Chocolate, raspberry, and garrigue highlight this lush but balanced wine with a persistent finish. Drink now and into the end of the next decade.
~$67 "Réserve Auguste Favier" (Châteauneuf-du-Pape 2016) 
85% Grenache and 15% Cinsault from the "Les Serres" lieu-dit. The wine underwent 100% whole-cluster fermentation and was aged 18 months in cement tanks. The exceptional 2016 vintage shows in this rich and velvety wine with soaring aromas and freshness. There are plenty of balancing tannins and mineral length on the back end. This generous cuvée has many years of pleasure to give.
$117 "Collection Charles Giraud" (Châteauneuf-du-Pape 2016)
The tête de cuvée of Domaine Saint Préfert made from the oldest vines (60 to 100 years) from the "Les Serres" lieu-dit. The blend is 60% Grenache and 40% Mourvèdre that underwent 100% whole-cluster fermentation and was aged 18 months in both cement tanks and older 600-liter barrels. Fruit, freshness, and power — the fantastic 2016 vintage is again on display with this wine that is intensely concentrated and rich yet still maintains an elegant harmony. "Charles Giraud" has at least two decades of exuberant drinking to offer lovers of Châteauneuf-du-Pape and lovers of world-class wine.
- - -
Posted on 2019.09.05 in France, Saturday Sips, Southern Rhone &nbsp| Read more...
Join us this Saturday to taste three different Muscadet from two top producers in the region.
There are a few things one should know about Muscadet: 1) Although it is sometimes confused with Muscat or Moscato, Muscadet is not a grape variety. It is a type of dry, white wine from northwestern France made with the grape variety Melon de Bourgogne. 2) While being justly recognized as a wine that pairs exceptionally well with oysters, a good Muscadet will be slightly salty, firm but not harshly acidic, and offer so much more to a discerning drinker than mere liquid to adequately wash down a bite of shellfish. 3) Muscadet has traditionally been bottled "sur lie" (on the lees), meaning that it has been kept in contact with the spent yeast cells and not racked or otherwise filtered for the purpose of deepening both the flavor and the texture.
The low hills of gneiss and granite in the Sèvre-et-Maine zone, east of the city of Nantes, is where the Melon de Bourgogne grape produces the ripest, liveliest, and most scented Muscadet. And that is where you'll find the heroes of our story.
All prices based on the purchase of six or more bottles (mix and match).
---
Ninth generation winemaker Pierre-Marie Luneau was raised at his family estate in the village of Le Landreau in the eastern portion of Sèvre-et-Maine, yet he always seemed curious about viticulture outside his home region
. At 18 he was off to school in Bordeaux and subsequently traveled France working at various vineyards in Sancerre, Bordeaux, the Languedoc-Roussillon between Perpignan and Rivesaltes, and then back to Sancerre. In 2011 he took over as head of the estate.
With a little over 110 acres of vineyards, the Luneau's have a relatively large estate for a grower/producer. That area is spread over 10 plots with 50 different parcels, including some exceptional terroir that is vinified separately so as to reflect its particular character. Pierre-Marie's father, Pierre, was instrumental in building the vineyards by procuring some of the best parcels available in Sèvre-et-Maine. Over time the estate has converted to organic cultivation, gaining full certification in 2016. Everything at Luneau-Papin is done with the purpose of expressing the mineral purity of Melon de Bourgogne from their soils, and it shows in the wines.
~$24 "L d'Or" (Muscadet Sèvre-et-Maine Sur Lie 2017)
The domaine's flagship wine is 100% Melon de Bourgogne from vines over 45 years old. The parcels are granite, south facing river slopes near the village of Vallet. This is Luneau-Papin's only cuvée on a granite subsoil. The wine matured for up to 12 months on its lees, with regular stirring (bâtonnage) to keep the lees in suspension.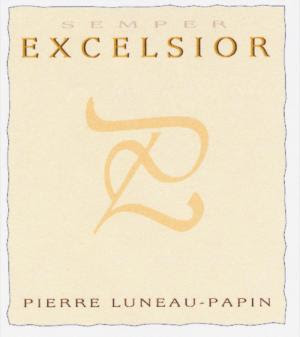 ~$30 "Excelsior" (Muscadet Sèvre-et-Maine 2015)
100% Melon de Bourgogne from 80 year old Massale selection vines. The wine comes from a parcel of vines called Clos des Noëlles, planted in 1945 by Pierre-Marie's great-grandfather, Joseph Bonneau. The plot faces due south in the village of la Chapelle-Heulin on a bedrock of micaschist. The wine matured for 36 months on its lees, with regular stirring (bâtonnage) to keep the lees in suspension.
---
Domaine de la Pépière is located in the village of Maisdon-sur-Sèvre in the southern portion of Sèvre-et-Maine. The estate was founded in 1984 by Marc Ollivier and has since become a benchmark for naturally produced Muscadet. Marc started with about 17 acres and over the years the domaine has grown by acquiring new plots,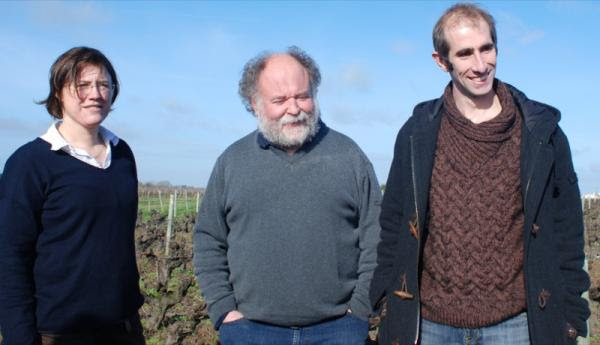 carefully chosen for the age of their vines and the quality and originality of their terroirs. He currently holds about 86 acres.
The domaine's various sites are rich in granite and gneiss in differing stages of decomposition. The vines range in age from 20 to over 100 years old. As with every great winemaker, Marc believes that the quality of a wine depends entirely on the quality of the fruit it was made with, and his cultivation methods reflect that philosophy. To that end, Marc has taken on partners Rémi Branger, who joined the estate in 2007, and actively worked on the organic conversion of the vines, and Gwénaëlle Croix, who came in 2013, and has pushed the farming methods towards biodynamic viticulture
~$35 "Gorges" (Muscadet Sèvre-et-Maine 2015)
Gorges is one of three designated Crus in Sèvre-et-Maine. You can think of it like a Grand Cru in Burgundy or Alsace. Not only is the terroir of Gorges known to produce exceptional wines, the regulations on its production are more strict. Among many of the rules in pursuit of quality, yields must be kept low, and the wines must be aged on their lees for a longer period of time
100% Melon de Bourgogne. The estate sourced the fruit from highly regarded grower Michel Brégeon who is well known for his vineyards with "Gabbro" soils — ancient, blue-green, volcanic rock, formed by magma eruptions under the ocean floor — that are said to impart intense complexity to the wines produced from this terroir. The wine was fermented in stainless steel tanks with natural yeasts, followed by aging sur lie in vat for 42 months before bottling without fining or filtering.
- - -
Posted on 2019.08.29 in France, Loire, Saturday Sips &nbsp| Read more...
Some folks think that Venetian-born Giuseppe Sesti is a lunatic. A student of music, art, and astronomy, the last of which became his profession, Giuseppe eventually fell into winemaking after restoring the abandoned ruins of the Castello di Argiano that he purchased in 1975. The castle is located just a few miles southwest of Montalcino and was once an ancient Etruscan outpost. It is there that breezes from the Tyrrhenian Sea and sandy, tufaceous soils produce Sangiovese-based wines of refinement and exuberance.
Before planting his own vineyards in 1991, Giuseppe spent much of his free time visiting local wineries and helping out his neighbors in their vineyards and cellars, gaining the experience that would bring him the recognition he sees today.
The claim by some that Giuseppe is a lunatic comes from his study of both the classics and oral tradition that brought him to re-evaluate the influence of the moon on the vines and in turn the making of the wine itself, allowing him to reduce sulphites to a bare minimum. Indeed, ln I975 he had already published tables of the small and larger moon cycles for agricultural use in order to reduce the use of chemicals on the land. This account by Giuseppe himself gives you an idea of how influential oral tradition was to him. This is about as "old-world" as winemaking gets.
Today, Giuseppe's daughter, Elisa, who grew up at the estate, is an active partner in all aspects of the vineyard management and winemaking. She continues the eco-friendly philosophy adopted by her father. Elisa's primary concern is the raw material that goes into the wine. Because, as every great winemaker will tell you, wine is made in the vineyard first. The estate totals about 22 acres of vineyards (a little over nine acres are in the Brunello zone) and production is small.
All prices based on the purchase of six or more bottles (mix and match).
~$22 "Monteleccio" (Toscana IGT 2016)
The name "Monteleccio" is an Italian version of the Latin name "Montalcino," meaning "hill of the holm oaks." The wine is produced from 100% Sangiovese that ages for one year in 30 hectoliter oak botti before release. Aromatics of cherry licorice and sun-drenched Mediterranean scrub precede a sip that is simultaneously complex and easy to drink. The generous fruit is bittersweet in the best way possible. "Monteleccio" is a superb value that will elevate any pizza night.
~$31 Rosso di Montalcino (DOC 2016)
100% Sangiovese from five acres of vineyard with characteristic oceanic sediment. The wine ages for 18 months in 30 hectoliter oak botti before release. The world's leading authority on Italian wine, Gambero Rosso, has awarded this lovely expression of the Tuscan hills it's highest rating of Tre Bicchieri (Three Glasses) — an award that only the top wines of Italy will ever receive. A medley of alluring scents rise from a glass: summer fruits, sandalwood, and rose, to name but a few. A sip is fresh and concentrated with fruit, with a plump mid-palate, and a lengthy, mineral finish. It's a wine with Brunello di Montalcino vibes, without the Brunello di Montalcino price.
$99 Brunello di Montalcino (DOCG 2013)
100% Sangiovese from nine acres of vineyard with characteristic oceanic sediment and vines planted from cuttings taken from very old, neighboring vineyards over twenty years ago. The wine ages for four years in 30 hectoliter oak botti, and a further year in bottle before release. The wine captures the best elements of the excellent 2013 vintage with rich fruit, a polished mouthfeel, and a firm but integrated tannic backbone. It is one of the year's best Brunello di Montalcino wines that will reward a patient drinker.
---
For a deeper dive into the philosophy of Sesti, the present state-of-affairs of Brunello di Montalcino, and some beautiful drone footage of Castello di Argiano, check out this interview with Giuseppe.
- - -
Posted on 2019.08.22 in Italy, Saturday Sips, Tuscany &nbsp| Read more...
The Tarlant family has tended vines in the Vallée de la Marne since 1687. They began producing their own wine in the 1870s. Such a long and rich history has allowed Benoît Tarlant, the latest family member to head the estate, to continue their reign as one of the region's most distinguished growers. Benoît's sister, Mélanie, works the business and marketing side of the operation. 
Benoît's Ultimate goal is to make zero-dosage Champagne by means of harvesting his fruit when it reaches its "prettiest" maturity — full of flavor with the acidity in balance. But he is not an absolutist. He will adjust his philosophy when the wines call for it, although it is rare for him to produce a wine that receives more than 6g/L dosage (just a hair over Extra Brut). 
Based in the village of Oeuilly, the estate totals 34 acres spread across 57 parcels, each vinified separately. The vines average around 30 years old. Benoit embraces the diversity of his many plots but finds it a challenge to cultivate so many distinct sites using one strict technique. Subsequently, he employs a range of methods depending on the site. Some parcels are managed with biodynamic techniques, some organic, and some with Benoît's form of "herbal therapy," where various beneficial herbs are planted among the vines. 
All prices based on the purchase of six or more bottles (mix and match).
~$53 "Zero" Brut Nature  
"Zero" is one of Champagne's best Brut Nature wines. There are decades of effort in perfecting the cuvée as Benoît's father, Georges, has been making it since the early 1980s, long before it became trendy. The blend is roughly equal proportions of Pinot Noir, Chardonnay, and Pinot Meunier. Ripe fruit, several vintages of reserve wine, and long aging on the lees combine to produce a wine of beautiful depth. Layers of ripe yellow plum, peach, and citrus precede a honey-toasted richness. 
$108 "L'Aérienne" Brut Nature (2004)
The long maturation of the fruit in the 2004 vintage contributed to an intense aromatic expression and a superb balance to this wine, an almost aerial sensation — hence the name of the cuvée, L'Aérienne. The blend is 70% Chardonnay and 30% Pinot Noir from the lieux-dits "L'Enclume", "Les Marguiniers", "Les Forgeottes", and "Pierre de Bellevue" consisting of chalk and both friable and hard limestone. It was fermented with natural yeasts and aged in barrel before bottling in May 2005. Disgorgement was performed in 2017 and the wine was finished with zero dosage.
$126 "Cuvée Louis" (2002/2003 Base)
Cuvée Louis is named for Benoît's great-great grandfather Louis, who was the first to bottle the family's estate wines in 1928. The fruit is from the Tarlant's original and chalkiest vineyard Les Crayons, named for the high chalk (craie) content of its soils. A blend of Chardonnay and Pinot Noir from vines with an average age of 65 years, this is a radiant and monumental Champagne. 
$162 "BAM!" Brut Nature (2009 base)
"BAM!" is produced from the far less common varieties of Pinot Blanc, Arbanne, Petit Meslier. The vines grow in the limestone, sand, and silica-based soils of the "Four à Chaux – les Sables" lieu-dit in the Tarlant's home village of Oeuilly. This bottling is a 2009 base (50%) plus 2007 & 2008 (50%). It was fermented with natural yeasts and aged in barrel before bottling in May 2010. Disgorgement was performed in April 2016 and the wine was finished with zero dosage.
$243 "La Vigne d'Antan" Brut Nature (2002)
"La Vigne d'Antan" (The Vines of Yesteryear) is 100% Chardonnay from a single, ungrafted vineyard on sandy soils in Oeuilly. After nine months of aging in fourth-use oak barrels, the wine rested in bottle for over 11 years before disgorgement in May of 2014. Even after nearly two decades, there is still plenty of  youthful lemon and apple fruit to go along with the mature layers of honey and brioche. This is a one of a kind Champagne.
- - -
Posted on 2019.08.18 in Champagne, France, Special Selections &nbsp| Read more...
Join us this Saturday as we explore the diversity of the Middle Loire valley through several different bottles. Although adjacent, Saumur-Champigny and Chinon belong to two separate sub-regions; Anjou-Saumur and Touraine, respectively. Both regions are known for malleable limestone (tuffeau) that has been built into many a castle and cold underground cellar. Yet the soils are as varied as the expressions of Cabernet Franc that come from these areas with the potential to produce France's most refreshing and elegant versions of this grape variety.
All prices based on the purchase of six or more bottles (mix and match).
Domaine Filliatreau: Saumur-Champigny
Imagine yourself in a Paris bistro enjoying a whole roast chicken with a heap of pommes frites. The wine you might be drinking is one Paul Filliatreau's Cabernet Franc wines from Saumur-Champigny. After taking over the family domaine in 1967, Paul soon began bottling and selling wine made at the estate — not the norm in an era of cooperatives. It didn't take long for the light and fresh style of Paul's wines to become a hit in Parisian bistros, which remain the main market for Filliatreau wines to this day.
The present era of Filliatreau sees Paul's son, Frédrik, as the fourth generation to run the estate, now a total of almost 100 acres of vines across dozens of varied parcels. Their approach to farming adheres to a philosophy of sustainability and the domaine is undergoing conversion to organic cultivation with some biodynamic methods. Massale selection is used for all new plantings. After harvest, the fruit is hand-sorted, destemmed, and fermented with natural yeasts in temperature-controlled, stainless steel tanks. The wines are moved by gravity and aged almost exclusively in steel.
~$18 "La Grande Vignolle" is 100% Cabernet Franc. The 14 acre lieu-dit of Grande Vignolle sits on a rich limestone plateau above the Loire River. The vines are 35 to 40 years old and lie at the northern limit of the Saumur-Champigny appellation. A juicy and fleshy wine for near-term drinking.
~$24 "Vielles Vignes" is 100% Cabernet Franc from the estate's most significant vines. The fruit is harvested from vines that are 50 to 90 years old growing out of clay-calcerous soils around the village of Chaintre (just about midway between the towns of Saumur and Champigny). A powerful and lengthy expression of Cabernet Franc capable of developing in a proper cellar for a decade or more.
Bernard Baudry: Chinon
Bernard Baudry is easily one of Chinon's best producers. Born into a winemaking family, Bernard studied oenology in Beaune and began his professional life as a vine-tending consultant at the Tours laboratory. In 1975 he decided to start his own estate with five acres of vines in the village of Cravant-les-Coteaux. Today the estate is 79 acres and Bernard's son, Matthieu, works with his father to continue producing the consistent, high-quality wines for which the domaine is celebrated.
The Baudry vineyards have always been cultivated according to environmentally friendly methods and have been organically farmed since 2006. To rebalance the organic matter in the soils they maintain their own compost based on cow manure and straw. Yields are controlled by partial disbudding of the vines but the ultimate goal is to find the right balance based on vintage conditions where the vines naturally restrict their own yields. Harvest is done 100% by hand and post-harvest all fruit is de-stemmed and placed into gravity-fed vats where fermentation takes place with indigenous yeasts.
~$31 "Le Clos Guillot" is 100% Cabernet Franc produced from a plot of a little less than 10 acres in size that was planted between 1993 and 2000. The parcel is situated on a south-southwest exposed slope with clay soils on top of the hill and yellow tuffeau lower down the grade and results in a wine that is robust, flinty, and full of tension. The Baudrys are traditionalists and it shows in this classic Chinon.
- - -
Posted on 2019.08.08 in France, Loire, Saturday Sips &nbsp| Read more...