Domaine Giacometti "Cru des Agriate" (Patrimonio Rouge 2016)
Special Price: $113/6-pack (~$19/bottle)
We knew that Domaine Giacometti's "Cru des Agriate" Patrimonio Rouge was a Corsican beauty when we brought it in last autumn. But after drinking several bottles on multiple occasions with pizza and friends, we knew we had to get more as soon as possible. The 2016 vintage has just arrived and it remains one of the most expressive under $20 wines available.
"Cru des Agriate" Patrimonio Rouge is primarily Niellucciu fermented with indigenous yeasts and then aged for 13 months on fine lees in stainless steel tank. While the grape variety Niellucciu is thought to be a strain of Sangiovese likely introduced to the island by the Genoese sometime around the 13th century, it has clearly been adapted to Corsica. "Cru des Agriate" exudes a heady bouquet of herbal maquis and lusty flowers over smoky cherry fruit. A sip is ripe, juicy, and downright poundable, finishing with a twist of pomegranate sap. It's like a staid Chianti Classico went on a Mediterranean sailing vacation and came back with a shaggy beard and suntan. Compared to the previous vintage, the 2016 has perhaps a bit more texture and minerality on the finish.
Winemaking is possibly at its most extreme in the dry, scrub-covered landscape of Corsica's Désert des Agriates. It is there, in the appellation of Patrimonio, that the isolated estate of Domaine Giacometti coaxes wonderfully balanced wines from this rugged swath of land on the northern end of the island, near the tiny hamlet of Casta, and just west of Cap Corse — the island's most prominent peninsula.
While one might expect wines from such a hot and arid place to express as overripe, in the right hands the wines can be models of freshness and grace with a subtle herbality whispering of the mints, laurels, and myrtles of the aromatic maquis shrubland that blankets the coast.
There are two driving characteristics of the Casta climat that help shape the unique expression of terroir in Giacometti's wines. First is the granite and clay soils that impart elegance and delicacy to the wines. 
The second is a steady wind called the Libecciu, most prominent during the summer. This wind not only moderates the temperatures during the heat of the growing season, it also helps reduce the risk of disease in the vineyards.
Laurent Giacometti purchased the domaine in 1987 with his son, Christian, taking over vines that had been planted in 1966. Today there are nearly 75 acres planted to Niellucciu, Sciacarellu, Vermentinu, Garnacha, and Syrah. The third-generation of Giacomettis, Simon and Sarah, now run the operation. The first goal of the estate is to create wines that express place. To accomplish this lofty pursuit the family focuses on organic farming and minimal intervention in the cellars.
---
More from Domaine Giacometti
All prices based on the purchase of a 6-pack (mix-and-match)
$25 "Sempre Cuntentu" (Vin de France Rouge 2017)
100% Sciaccarellu fermented with indigenous yeasts and then aged for nine months on fine lees in stainless steel tank. DNA research has found that Sciaccarellu is identical to the Tuscan grape Mammolo, named after the flower viola mammola, or sweet violet in English. "Sempre Cuntentu" exudes exceptionally expressive aromatics of candied strawberry, cherry, and redcurrant mingled with myrtle and eucalyptus. Silky ripe fruit is enhanced by an invigorating acidity finished by a long and shimmering texture.
$27 "Sempre Azezzu" (Vin de France Rouge 2015)
100% Syrah fermented with indigenous yeasts and then aged for 12 months on fine lees in 500 liter barrels. While the Giacomettis mostly like to work with the regional varieties, they chose to plant a tiny plot of less than one acre of Syrah with the aim of producing a wine with the unique expression of Casta within the frame of an international grape variety. Along with a varietal purity in the aromatics and on the palate, "Sempre Azezzu" hints at the herbal maquis of the island while oozing generous aromas of bright fruit, flowers, and spice. A sip is lively and fresh with wild berries and a lengthy mineral finish. In a blind tasting this wine might be confused with an approachable version of Northern Rhône's Saint-Joseph, also known for its granite soils.

$27 Cuvée Sarah (Patrimonio Rouge 2016)
Named after Christians's daughter Sarah who now helps run the winery. The wine is comprised of 100% Niellucciu harvested from 45 year old vines and fermented with indigenous yeasts in stainless tank. The wine is aged for 12 months on fine lees in 500 liter barrels from two to seven years old. Aromatically complex with ripe fruits, sweet spices, and undergrowth, a sip is full-bodied, elegant, and supported by ripe, pleasant tannins.
~$32 Cuvée Sarah (Patrimonio Blanc 2017)
The white version named after Christians's daughter Sarah is made from 100% Vermentinu from vines that are 42 years old. The wine is fermented with indigenous yeasts and then aged for 10 months, all in demi-muids. It is then transferred to stainless tanks where it ages a further five months. The result is a lush and exotic wine that proudly broadcasts the aromas and flavors of ripe Vermentinu, with a side of herbs, all the while keeping a salty, crisp balance.
- - -
Posted on 2019.05.23 in Corsica, France, Saturday Sips &nbsp| Read more...
Le C des Carmes Haut-Brion (Pessac-Léognan 2016)
Special Price: $189/6-pack (~$31/bottle)
As the name implies, Château Les Carmes Haut-Brion sits on hallowed ground in the Pessac-Léognan appellation within the region of Graves, very near the First-Growth estate of Château Haut-Brion. The estate traces its roots all the way back to 1584 when Jean de Pontac, the lord of Haut-Brion, donated several acres of meadows and vines to the Carmelite Order of monks who subsequently managed the estate until the French Revolution in 1789.
While Château Les Carmes Haut-Brion retains some of its historical origins in its name, the estate is contemporary in the best sense of the term. After acquiring the château in 2010, Patrice Pichet began an ambitious update of the vineyards and cellars with the goal of realizing the full potential of the land. Plots were replanted, slopes were corrected, and a new gravity-fed vat room was built to incorporate form and function. Below the vat room, a cellar surrounded by water allows barrels of wine to mature in ideal conditions.
With Stéphane Derenoncourt consulting, winemaker and property manager Guillaume Pouthier oversees cultivation that is guided by an environmentally-friendly approach. Even in the somewhat urban environment on the outskirts of the city of Bordeaux, biodiversity is pursued on the estate. Horses are used for plowing. Harvest is done by hand. Each individual plot is attended to based on its character.
These careful and methodical practices are extended to the plots outside of the estate's holdings in the commune of Pessac to their acreage in the nearby commune of Martillac. Indeed, the fruit that comprises Le C des Carmes Haut-Brion comes from plots near the renowned Château Smith Haut Lafitte and Château Haut-Bailly near the southern limit of Pessac-Léognan.
Le C des Carmes Haut-Brion is made from near equal proportions of Cabernet Sauvignon and Merlot with just a pinch of Petit Verdot. 25% of the fruit was left in whole bunches during vinification as Guillaume Pouthier finds that "careful use of ripe stalks, particularly with the Cabernet Franc and Merlot grapes, increases sapidity, drinkability and elegance. Flavor-wise, it imparts a distinctive salinity and freshness." His technique is highly specific, with destemmed berries and whole bunches layered in the vat to allow the juice to naturally fall through the architecture created by the stems. "The principle is to have the minimum of intervention in the vinification, and to concentrate on an infusion, like tea, rather than a pumping over of the juice."
The wine is aged in 30% new oak and the remainder in one year old barrels, resulting in a smooth, easy to drink wine, filled with fresh black and red berries balanced by a moderately mineral finish. A cherry spice and violet perfume lingers as you sip. It perfectly straddles a line between heady complexity and backyard bbq party juice and ought to be a natural pairing with fancy burgers.
- - -
Posted on 2019.05.15 in Bordeaux, France, Saturday Sips &nbsp| Read more...
The Benevelli estate lies at the southern end of the Barolo production zone in Italy's Piedmont region, where the Maritime Alps meld with the Apennines forming a watershed where several rivers flow north through the hills known as Langhe. Planted with vines since the Middle Ages, no other Italian landscape conveys how deeply vines are rooted in a people's culture. Firmly embedded into this culture are the 27 acres of Benevelli's vineyards, all within the commune of Monforte d'Alba.
The estate began to take shape in 1978 when Piero Benevelli started out with about 12 acres and focused his energy on producing traditional wines of the Piedmont. Today, Piero's son, the young and talented Massimo Benevelli, steers the ship.
Helping out in the vineyards as a teen, Massimo discovered his life belonged among the vines at an early age. He has since leveraged his accumulated knowledge to produce soulful wines that speak of place. Farming is traditional and harvests are always done by hand. With such small production, and virtually no marketing, there is little more to say about Massimo. In this case, we think the wines truly speak for themselves.
---
All prices are based on the purchase of six or more bottles (mix-and-match)
~$15 "La Costa" (Dolcetto d'Alba 2017)
A good Dolcetto d'Alba is the paragon of everyday wine from Piedmont and an ideal partner for a range of dishes. The fruit grows in a seven acre plot of limestone with gray and white marl that was planted in 1986. The wine is vinified and aged in stainless steel tanks for 6-7 months with a further three months in bottle before release. Fresh grape and herbal aromatics lead to a sip of rich and mellow fruit and a tingly finish reminiscent of raspberry-filled dark chocolate. If you bring the glass really close to your ear you can hear a soft, faraway voice urging you to order a pizza.
~$19 Langhe Nebbiolo (2017)
Produced from the fruit of 7-10 year old vines planted in a three acre plot of brown and red marl, Benevelli's 2017 Langhe Nebbiolo is a remarkably composed wine. It is brimming with strawberry and cherry fruit with subtle hints of herbs, tar, and rose that one expects from the Nebbiolo grape grown in such sacred ground. While plentiful with fruit, this is not merely a fruity wine. Its mineral finish and tannic structure suggest a wine that has the spine to develop for a couple of years. The wine is vinified and aged in stainless steel tanks for 5-6 months with a further three months in bottle before release.
~$49 "Ravera di Monforte" (Barolo 2014)
As good as Massimo Benevelli's Langhe Nebbiolo is, the 2014 "Ravera di Monforte" Barolo is a leap in expression for the Nebbiolo grape variety. A deep inhalation will draw a wealth of charming aromas like rose petals, spicy cherry licorice, and warm terracotta. A sip explodes in the mouth with abundant fruit and structure. It is clearly a wine with many fine years ahead of it. The fruit is grown from a plot that was planted in 1960 and totals almost five acres. The plot is in the southeast-facing Pilone amphitheater near the crest of the Ravera di Monforte ridge. It is there, up near the summit, where the Cru of Ravera di Monforte produces wines of the most mineral expressions, and Benevelli's is a benchmark. The wine is aged in second-passage barriques for one year, then in 10-year-old oak botti (40 hL, 20 hL, and 15 hL) for 15 months, with a further 8-10 months in bottle before release.
- - -
Posted on 2019.05.09 in Italy, Piedmont, Saturday Sips &nbsp| Read more...
"Cielos y Besos" (Arribes 2016)
Special Price: $108/6-pack (~$18/bottle)
Our good friend Charlotte Allen is a winemaker and Englishwoman living in the remote Spanish village of Fermoselle in Las Arribes del Duero, near the border of Portugal. You may already be familiar with her white and red wines. To launch the arrival of cuvée Cielos y Besos we asked her to send us the story of the wine in her own words:
When I moved to Spain in 2007 and started making my own wine, I had a very clear vision of what I wanted to do, which was to make just one barrel-aged red wine. This first wine was baptized Pirita Crianza. For a couple of years that was enough, but slowly I felt the need to challenge my skills, so along came a white, also under the Pirita label, and then a top cuvée, Charlotte Allen. For a few years I was happy with just these three wines, but by the time 2015 came along, the old wanderlust was back.
Cielos y Besos was born on a long car journey to the mountains. With my son sleeping in the back seat, I started to think about a particular tank of wine I had which was bright, fresh and fruity and just said "Drink me". I had never before thought of making a "joven", that is to say a red wine with no barrel ageing, but as the miles sped by and the mountains approached, it seemed like an increasingly good idea. So good in fact, that by the time we arrived at the ski station, the decision had been made.
The name was inspired by one of my favourite songs, Tiempo y Silencio, by the Cape Verde singer Cesaria Evora. I had always thought that the title of song (Time and Silence) would be a wonderful name for a wine. There is however a much bigger bodega in Extremadura which makes a wine called "Habla del Silencio" and I knew that a court case would probably leave me with nothing more than lawyer's fees and egg on my face, so gave up on the idea. But the song just kept going around in my head. "Tiempo y silencio, gritos y cantos, cielos y besos, voz y quebranto…". The name seemed somehow joyful to me, much like the feeling the wine inspired.
It is a blend made up predominantly of organically-farmed old vine Juan García, a variety native to the Arribes del Duero and the most widely planted red grape in the area. The wines of this variety are characterized by wild berry fruit, fine tannins and good acidity. The remainder is an eclectic mix of tempranillo, rufete, bastardillo chico, bastardillo serrano and garnacha (to name but a few) with a few kilos of white grapes thrown in for good measure.
The grapes were fermented in concrete tanks at a relatively low temperature of 25 degrees (77 degrees fahrenheit). The wine spent around around three weeks on the skins, with a daily pumping over. It was further aged in these same tanks for around eight months and was bottled without fining or filtration and with no added sulphur. I recommend drinking it very slightly chilled.
- - -
Posted on 2019.05.02 in Arribes, Saturday Sips, Spain DO &nbsp| Read more...
We're always excited to receive a new vintage from the husband and wife team of Nathalie and Sylvain Langoureau, especially when they are as wonderfully drinkable as the 2016s.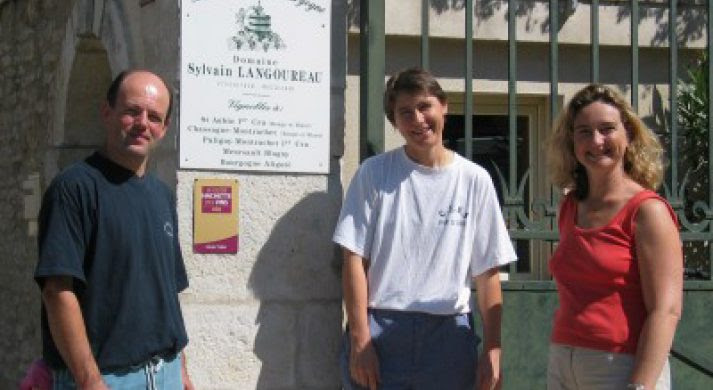 The couple farm about 24 acres of prime vineyards mainly in the Côte de Beaune villages of Saint-Aubin, Meursault, Puligny-Montrachet, and Chassagne-Montrachet. This is a heart and soul garagiste operation based in the tiny hamlet of Gamay, nestled between Puligny-Montrachet and Saint-Aubin. Sylvain took over this family domaine in 1988.
Farming at the Domaine follows the principles of la lutte raisonnée (the reasoned struggle), where chemical treatments are used only when absolutely necessary. All fruit is harvested by hand. Sylvain vinifies his wines with indigenous yeast and small percentages of new oak for only the most significant parcels. The resulting wines are elegant and focused treasures that are all produced in very limited quantities.
The 2016 vintage is like an ideal marriage of the fresh structure of 2014 and the phenolic ripeness of 2015 without quite as much accumulation of sugars. In short: exceptionally well-balanced and drinking well early with excellent potential for long term development.
---
All prices are based on the purchase of six or more bottles (mix-and-match)
~$26 "Clos Marc" Bourgogne-Hautes-Côtes-de-Beaune
100% Pinot Noir from a tiny walled vineyard near Saint-Aubin, "Clos Marc" is the rare red Burgundy that emphatically expresses place with a price tag still in the $20s. A poundable wine with generous fruit, it is both crowd-pleasing and complex. Like the fantastic 2015 vintage of Pierre Bart's Marsannay, this is a wine to purchase by the case.
~$40 "Les Voillenots Dessous" Chassagne-Montrachet
100% Pinot Noir. Although Chassagne-Montrachet is renowned for its white wines, the commune produces just as much red wine. A superb value from a parcel located on the border just below the village of Chassagne-Montrachet and across a lane from the Premier Cru parcel of Les Places.
~$40 Saint-Aubin 
100% Chardonnay from the back slope of the Côte d'Or behind the Grand Cru of Montrachet, the commune of Saint-Aubin is known for refined white wines of excellent value. 2016 is majestically balanced between rich, ripe orchard fruit and bracing minerality, with the stuffing for short to medium-term cellar development.
~$62 "Les Houillères" Chassagne-Montrachet
100% Chardonnay from a single vineyard on the border of Puligny-Montrachet, adjacent to the Premier Cru of Vide Bourse, and about 200 yards from the Grand Cru of Bâtard-Montrachet. Savory with bushels of sappy fruit and an everlasting finish of stone-ground lemon peel — a model Chassagne-Montrachet that is simply a joy to drink.
- - -
Posted on 2019.04.25 in Burgundy, France, Saturday Sips &nbsp| Read more...