Charming Provence. Between olive groves and pine forests the rocky landscape is wild with the fragrant garrigue that marks its wines. This picturesque southern French region on the Côte d'Azur is famous for its rosé, but with a little bit of digging, and some guidance from your favorite local wine merchant, you can find some of France's most structured, age-worthy red wines. Although relatively small, Bandol is easily Provence's most important appellation.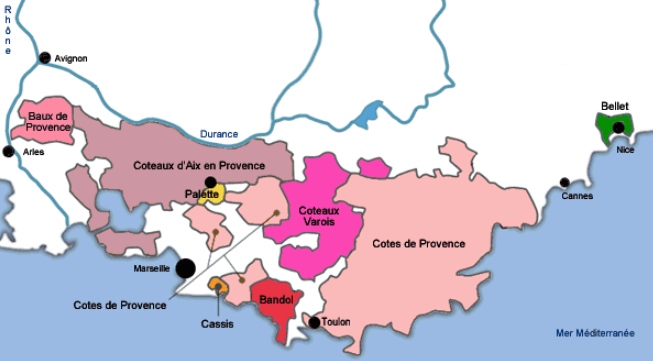 Bandol wine is grown in small quantities in the limestone hills near the village of Bandol, east of Marseille and west of Toulon. It's sun-soaked southerly terraces brushed with Medditerranean breezes are ideal for cultivating Mourvèdre — a grape variety with one of the longest growing cycles, but when fully ripened has the potential to create some of the most substantial and long-lived wines on our pale blue dot. Being one of mainland France's driest, sunniest climates, fungal diseases are not the perennial threat they are elsewhere, making the region well-suited to organic viticulture. Bandol red wines must be at least 50 percent Mourvèdre, with the remainder generally blended with the classic grapes of the Mediterranean: Grenache, Cinsault, Syrah, and Carignan.
We are pleased to offer a selection of exceptional wines that speak of sunny Provence. Included in the package are wines from Bandol's top producers, with five bold and meaty red wines that you can enjoy now or ten years from now, and a rare white Bandol.
Included in Saturday Sips Review Club March 2021 Selection 6-Bottle Package are one each of the following wines:

Domaine Tempier 
One of the oldest family-run estates in the region, Domaine Tempier is also the most recognized. The family was largely instrumental in getting the appellation of Bandol established in 1941. Bandol RED 2018 (Regular $56) is the quintessential expression of Mourvèdre, grown on terraced vineyards on steep hills around the "plan du Castellet." The wine is full of fruit and earthy flavor, coupled with fine-grained tannins, and a complexity from the multiplicity of soil types that surround the estate, from pure limestone to ancient sandstone and limestone marls. The wine is a blend of Mourvèdre (around 75%), with Grenache and Cinsault, and, in small proportions, Carignan and Syrah, with vines at an average of 35 to 40 years old.
Domaine de la Tour du Bon 
Agnès Henry is the winemaker and owner of Domaine de la Tour du Bon. Although the estate has been in the family since 1968, it is Agnès that has cemented its current acclaim. Her 42 acres are a mix of red earth, clay, sand, and gravel that all rest atop a limestone plateau near the village of Le Brûlat. Agnès calls her Bandol RED 2016 (Regular $38) true "blood of the earth." The blend is 53% Mourvèdre, 27% Grenache, 10% Cinsault, and 10% Carignan from extremely low-yielding vines. The Grenache adds a light cherry fruit to balance out the striking power of the Mourvèdre, while the small additions of Cinsault and Carignan work to bind the two main varieties.
Domaine de Terrebrune
Reynald Delille heads this lauded estate nestled among the foothills of the limestone massif of Gros Cerveau. Certified organic, the estate's terroir is characterised by the presence of limestone in its brown clay soil which inspired the estate's name. With Mourvèdre accounting for 85% of the final assemblage, Reynald's Bandols have an ethereal quality to them — the vineyards lie directly in the path of marine breezes that sweep off the Mediterranean, providing his wines with a mouthwatering saline quality. Bandol RED 2016 (Regular $54) is a fine example. With flavors of black fruit, anise, and wild herbs, its rich texture seems effortless, and its minerality profound. Bandol WHITE 2019 (Regular $41) is a blend of Clairette, Ugni Blanc, and Bourboulenc that shows remarkably subtle ripe peach and pear notes that are balanced with a refreshing, herbal greenness.
Domaine du Groś Nore 
Born in a small house set among the vineyards of Bandol, Alain Pascal always knew he wanted to be a farmer. He bottled his first estate wines in 1997. From the very beginning, Alain produced his wines with minimal intervention — bottled without filtering and fermented with indigenous yeasts. Cultivation is essentially organic, as no chemicals are used on the vines. To provide power and concentration, Alain uses 80% Mourvèdre in Bandol RED 2016 (Regular $47), his flagship cuvée. The rest of the blend is 15% Grenache and 5% Cinsault. The wine is fermented in stainless steel vats and then aged for 18 months in large oak foudres. It has a lovely, elegant nose of jellied black cherry fruit and mediterranean herbs. It's bold yet supple on the palate with concentrated fruit, clean earth, stone, and refined tannins. Bandol RED 2011 (Regular $79) has a few years of maturity. The 2011 vintage shows similar characteristics as the 2016, but has softened and integrated a bit more.
- - -
Posted on 2021.03.14 in France, Saturday Sips Review Club, Provence