The story of Domaine Lafouge goes back centuries. It was established in 1650 in the village of Auxey-Duresses, just west of the vineyards of Meursault. Although the family has been producing wines from village and premier cru vineyards for several generations, it was only when Gilles Lafouge joined his father after wine school that the domaine focused on bottling wine under the family name. While the wines o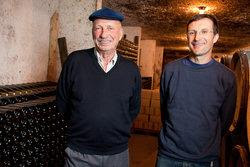 f Lafouge are still somewhat under-the-radar, they have a track record for consistency and exceptional expression of place.
The 24 acre estate consists of outstanding old-vine vineyards in Auxey-Duresses as well as small parcels in Meursault and a Premier Cru plot in Pommard. The approach to vineyard management is lutte raisonée (reasoned struggle) and includes plowing to both force the roots deep and reduce the need for herbicides. The soils are also treated with organic compost. Vinification is done with a philosophy of minimalism. The wines are fermented with indigenous yeast and maturing is done mainly in old barriques with a small percentage of new oak, depending on the cuvée.
Gilles Lafouge is clearly on his way to becoming a member of an exclusive group of the very top-tier of producers in Côte de Beaune. We're pleased to offer his wines before the price reaches that same tier.
All prices based on the purchase of six or more bottles (mix and match).
~$49 "La Chapelle" (Auxey-Duresses Premier Cru, 2016)
100% Pinot Noir from "La Chapelle," a 3.2 acre climat located almost entirely within the Premier Cru of "Reugne" and notable as one of the top vineyards in Auxey-Duresses. The vineyard boasts vines mostly 50 to 70 years old. Auxey-Duresses may be the most underrated commune in the Côte de Beaune, quite often offering unusually good value given the price. And this wine definitely fits the category with delicate yet heady aromas of macerated cherries, earth, and spice. A sip is all firm, concentrated fruit alongside crunchy minerals and silky tannins.
~$71 "Les Chanlins" (Pommard Premier Cru, 2016)
100% Pinot Noir from an 80-year old parcel on a steep slope of eroded soils of iron deposits, facing east, at 900 feet of elevation. "Les Chanlins" lies ideally next to Pommard's most esteemed Premier Cru vineyard, "Les Rugiens." Legend has it that Victor Hugo, famous French poet, novelist, and dramatist of the Romantic movement, was so smitten with Pommard that he described the wines as "night in combat with day." Perhaps Victor was drinking wine from a Lafouge property when he came up with the notion. Deeply layered, concentrated, and full of life, the wine is still quite primary but its intoxicating aromas of fruit liqueur and rose petals predict an extraordinary drinking experience with robust decanting or time.
~$62 "Les Casses-Têtes" (Meursault 2016)
100% Chardonnay from the hillside lieu-dit "Les Casses Têtes," located on the slope above the renowned Premier Cru "Les Gouttes d'Or." The wine owes its name to the rocky soils, where it was necessary to "break heads" (casser les têtes) of rocks on the surface in order to plant vines. The resulting wine is bursting with vibrant energy. Aromas of lemon, pear, spring meadows, and wet stone rise above a sip that is crystalline and exceptionally long in its mineral finish. Drink now with a vigorous decant or allow it to develop in the cellar over the next ten years.
- - -
Posted on 2019.09.12 in France