Join us this Saturday to taste three different Muscadet from two top producers in the region.
There are a few things one should know about Muscadet: 1) Although it is sometimes confused with Muscat or Moscato, Muscadet is not a grape variety. It is a type of dry, white wine from northwestern France made with the grape variety Melon de Bourgogne. 2) While being justly recognized as a wine that pairs exceptionally well with oysters, a good Muscadet will be slightly salty, firm but not harshly acidic, and offer so much more to a discerning drinker than mere liquid to adequately wash down a bite of shellfish. 3) Muscadet has traditionally been bottled "sur lie" (on the lees), meaning that it has been kept in contact with the spent yeast cells and not racked or otherwise filtered for the purpose of deepening both the flavor and the texture.
The low hills of gneiss and granite in the Sèvre-et-Maine zone, east of the city of Nantes, is where the Melon de Bourgogne grape produces the ripest, liveliest, and most scented Muscadet. And that is where you'll find the heroes of our story.
All prices based on the purchase of six or more bottles (mix and match).
---
Ninth generation winemaker Pierre-Marie Luneau was raised at his family estate in the village of Le Landreau in the eastern portion of Sèvre-et-Maine, yet he always seemed curious about viticulture outside his home region
. At 18 he was off to school in Bordeaux and subsequently traveled France working at various vineyards in Sancerre, Bordeaux, the Languedoc-Roussillon between Perpignan and Rivesaltes, and then back to Sancerre. In 2011 he took over as head of the estate.
With a little over 110 acres of vineyards, the Luneau's have a relatively large estate for a grower/producer. That area is spread over 10 plots with 50 different parcels, including some exceptional terroir that is vinified separately so as to reflect its particular character. Pierre-Marie's father, Pierre, was instrumental in building the vineyards by procuring some of the best parcels available in Sèvre-et-Maine. Over time the estate has converted to organic cultivation, gaining full certification in 2016. Everything at Luneau-Papin is done with the purpose of expressing the mineral purity of Melon de Bourgogne from their soils, and it shows in the wines.
~$24 "L d'Or" (Muscadet Sèvre-et-Maine Sur Lie 2017)
The domaine's flagship wine is 100% Melon de Bourgogne from vines over 45 years old. The parcels are granite, south facing river slopes near the village of Vallet. This is Luneau-Papin's only cuvée on a granite subsoil. The wine matured for up to 12 months on its lees, with regular stirring (bâtonnage) to keep the lees in suspension.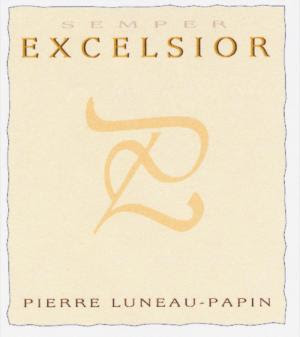 ~$30 "Excelsior" (Muscadet Sèvre-et-Maine 2015)
100% Melon de Bourgogne from 80 year old Massale selection vines. The wine comes from a parcel of vines called Clos des Noëlles, planted in 1945 by Pierre-Marie's great-grandfather, Joseph Bonneau. The plot faces due south in the village of la Chapelle-Heulin on a bedrock of micaschist. The wine matured for 36 months on its lees, with regular stirring (bâtonnage) to keep the lees in suspension.
---
Domaine de la Pépière is located in the village of Maisdon-sur-Sèvre in the southern portion of Sèvre-et-Maine. The estate was founded in 1984 by Marc Ollivier and has since become a benchmark for naturally produced Muscadet. Marc started with about 17 acres and over the years the domaine has grown by acquiring new plots,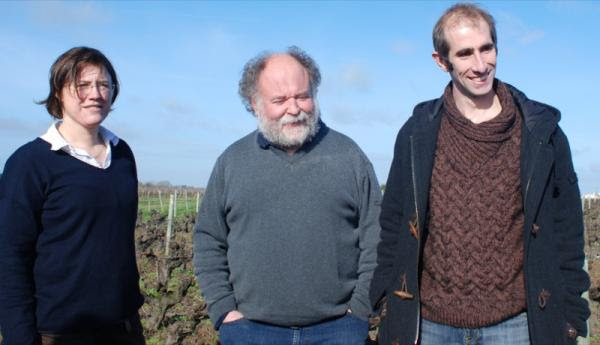 carefully chosen for the age of their vines and the quality and originality of their terroirs. He currently holds about 86 acres.
The domaine's various sites are rich in granite and gneiss in differing stages of decomposition. The vines range in age from 20 to over 100 years old. As with every great winemaker, Marc believes that the quality of a wine depends entirely on the quality of the fruit it was made with, and his cultivation methods reflect that philosophy. To that end, Marc has taken on partners Rémi Branger, who joined the estate in 2007, and actively worked on the organic conversion of the vines, and Gwénaëlle Croix, who came in 2013, and has pushed the farming methods towards biodynamic viticulture
~$35 "Gorges" (Muscadet Sèvre-et-Maine 2015)
Gorges is one of three designated Crus in Sèvre-et-Maine. You can think of it like a Grand Cru in Burgundy or Alsace. Not only is the terroir of Gorges known to produce exceptional wines, the regulations on its production are more strict. Among many of the rules in pursuit of quality, yields must be kept low, and the wines must be aged on their lees for a longer period of time
100% Melon de Bourgogne. The estate sourced the fruit from highly regarded grower Michel Brégeon who is well known for his vineyards with "Gabbro" soils — ancient, blue-green, volcanic rock, formed by magma eruptions under the ocean floor — that are said to impart intense complexity to the wines produced from this terroir. The wine was fermented in stainless steel tanks with natural yeasts, followed by aging sur lie in vat for 42 months before bottling without fining or filtering.
- - -
Posted on 2019.08.29 in France, Loire, Saturday Sips