Domaine Bart "La Montagne" (Marsannay) Red
Special Price: $167/6-pack (~$28/bottle)
Stretching from the village of Fixin at its southern end to the city of Dijon at its northern end, Marsannay vineyards are on the famous Côte d'Or that continues north from Gevrey-Chambertin. Although Marsannay has no Premier Cru designated vineyards there are a handful of lieu-dits, "La Montagne" prime among them, on a shortlist for this status upgrade once the French wine governing authority catches up with the the level of excellence coming out of these vineyards. For now, we can revel in the relative affordability of single vineyard Marsannay wines.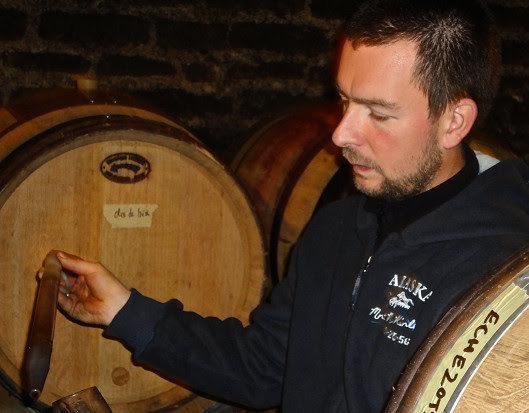 Pierre Bart is the sixth generation at Domaine Bart. Since 2009 he's been running the 49 acre domaine along with his uncle, Martin. His grandmother comes from the same family as Domaine Bruno Clair, explaining why there are holdings in the Grand Crus of Bonnes-Mares and Chambertin-Clos de Bèze, as well as Santenay. Indeed, a good portion of the estate's holdings come from the split of the renowned Domaine Claire-Daü between Domaine Bart and Domaine Bruno Clair. Domaine Claire-Daü was one of the most heralded and respected producers in the region, nearly singlehandedly bringing the appellation of Marsannay its current status.
Pierre's wines are balanced and classic Burgundy, understated with grace and elegance. It begins in the vineyard with sustainable and organic farming practices on every parcel. Each parcel is worked by hand according to its specific microclimate. The use of new oak is judicious and depends on the parcel. According to Pierre, "We make very fruity wines in classic style. The main words at our domaine are fruit and balance, balance between fruit, acidity and tannins. So we don't produce big extracted wines. We try to respect the fruit."
"La Montagne" is from a single vineyard of 25-30 year-old vines grown on south-facing slopes over hard limestone. Its fleshy fruit is balanced by a core of minerality. While drinking beautifully now it will develop in a proper cellar for another eight years or more.
---
More 2014 Burgundy in Stock from Domaine Bart (very limited)
"Les Echezots" (Marsannay)
$31/bottle
The Les Echezots vineyard gets more cool winds from the Hautes-Côtes, subsequently the grapes ripen later there and it is always the last parcel to be harvested. The result is a wine with a bit more nerve compared to La Montagne.
"Les Hervelets" (Fixin, Premier Cru)
$55/bottle
Dark fruits, hints of earth and spice, and a bit of heft from the more pronounced tannic structure allow this expression longer term aging potential.
Bonnes-Mares (Grand Cru)
$180/bottle
Domaine Bart's Bonnes Mares parcels are next to those of Comte de Vogüe. It is a powerful, long-lived wine. Only ten barrels are produced.
Chambertin Clos du Bèze (Grand Cru)
$200/bottle
Generally Clos de Bèze is considered to be more concentrated than Bonnes Mares but in the case of Domaine Bart's parcels it's the other way around. Expressive and intense, only five barrels are produced.
- - -
Posted on 2016.09.14 in Burgundy, France, Saturday Sips