What's not to like about autumn? Cozy fleece jackets, the musky-sweet smell of a leaf pile, rich meals filled with recently harvested vegetables slow-roasted in the oven…L. M. Montgomery expressed the sentiment gracefully in her novel, Anne of Green Gables, "I'm so glad I live in a world where there are Octobers."
This Saturday we are featuring a beautiful selection of Corsican wines selected specifically to enhance the autumn table.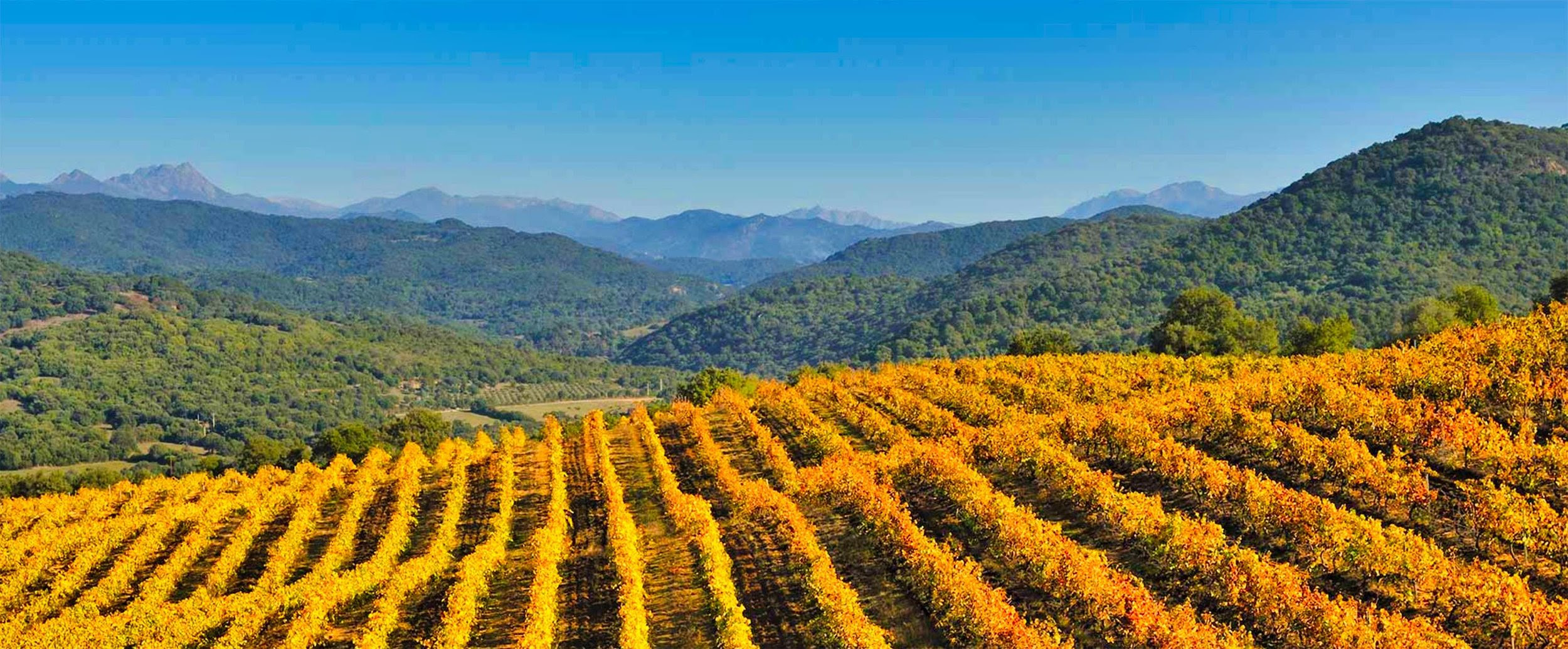 As France's most southerly vineyard area, you might expect the wines of Corsica to be ultra ripe and high in alcohol. In fact, the island's unique characteristics allow talented producers to achieve the type of depth and character found in some of the world's most famous winemaking regions. While the Mediterranean sun easily ripens fruit to create warmth and richness, the moderating effects of wind and elevation keep the wines fresh and balanced.
We invite you to explore the landscape of the island through three of its top producers and most significant grape varieties. The featured white wine has plenty of heft to pair with most fall fare while the two red wines will have enough freshness so that they won't become cumbersome as the meal stretches on. It's almost as if Burgundy met the Mediterranean and had three "love children" and we put them in a box just for you.
6-Pack Sampler ($240 All-Included): Corsican Wines to Complement Autumn Food from Three of the Island's Top Producers
This 6-Pack Sampler contains two bottles from each of these three renowned producers. The price includes tax and delivery, as well as a 10% discount. We will also honor a 10% discount on any bottles you might wish to add to the package.
Clos Canarelli (Corse Figari 2016) RED, Regular Price: $49
Possessing abundant freshness, complexity, and aromatic intensity, the wines of Yves Canarelli are some of the most celebrated and sought after from the island. A blend of mostly Niellucciu (closely related to the Italian Sangiovese) with around 15% each of Syrah and Sciacarellu. The fruit is from the granite and red alluvial soils on the southern tip of Corsica in the appellation of Corse Figari. Ripe, red fruits blend with notes of spice and herbal maquis shrubland that grows on the island's hills. Plum and cherry fruit show in abundance before leading to a hauntingly long and complex finish.
Domaine Comte Abbatucci "Cuvée Faustine" (Vin de France 2017) RED, Regular Price: $39
Easily one of the top producers in Corsica, Jean-Charles Abbatucci creates majestic and fiercely unique wines from the granitic western coast of Corsica. He has created a pristine poly-culture ecosystem on his estate south of Ajaccio that includes groves of olive trees on ancient terraces, and large swaths of untouched forests. The blend is predominately Sciaccarellu with a healthy portion of Niellucciu. If you don't spend all of your time inhaling the gorgeous scents emanating from the glass, you'll get mouthfuls of generous ripe fruit balanced by a lively spine of lengthy minerality.
Domaine Orenga de Gaffory "Cuvée des Gouverneurs" (Patrimonio 2017 ) WHITE, Regular Price: $39
Henri Orenga de Gaffory's clear passion for vine growing and winemaking allow him to translate Patrimonio's unique terroirs into wines of balanced structure and aromatic concentration. Practicing organic cultivation, the 138 acre estate is situated in northern Corsica, across a range of terroirs, and is a reference point for the appellation. "Cuvée des Gouverneurs" is 100% Vermentino from limestone, chalk and clay soils and fills a glass with exotic floral notes and mineral undertones. Maturation on the lees in French oak (1/3 new) for six to eight months with regular bâtonnage provides a bold and rich mouthful of fruit.
- - -
Posted on 2020.10.28 in France, Saturday Sips Wines, Corsica