Stone rarely looms as large in French life as it does along the Loire River Valley.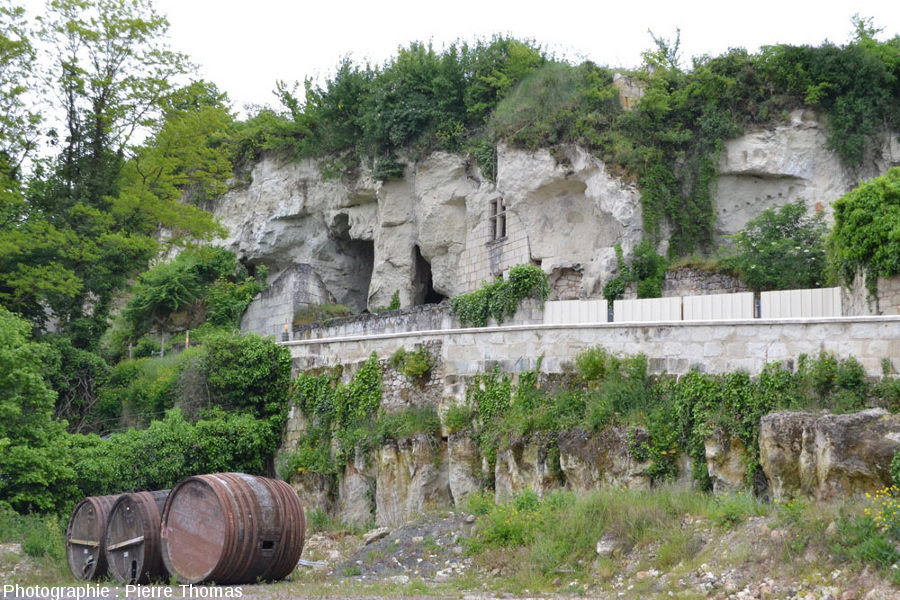 The generous and celebrated local supplies of malleable limestone (tuffeau) are responsible for both grand old castles and Cabernet Franc-based wines that are lively and bursting with juicy black raspberry fruit. Yet the soils are as varied as the expressions of Cabernet Franc that come from these areas with the potential to produce France's most refreshing, elegant, and profound versions of this grape variety. The center of it all are the appellations of Saumur-Champigny, Chinon, and Bourgeil, three of the most important sub-regions for red wine production in the Loire — all producing 100% Cabernet Franc wines.
Our latest Wine-Aid package features wine from three producers covering all three of the key appellations. These are wines that are genuinely refreshing and intense, perfect for the transition to autumn.
The price for this Wine-Aid package includes tax and delivery, as well as a 10% discount. We will also honor a 10% discount on any bottles you might wish to add to the Wine-Aid package.
Included in "The Other Cabernet" — 3 Types of Cabernet Franc from 3 Producers in the Heart of the Loire Valley Wine-Aid Package are two bottles each:
Château du Hureau "Fours à Chaux" (Saumur-Champigny 2014) Regular Price: $35
Fifth generation vigneron Philippe Vatan and his daughter Agathe use organic and biodynamic farming techniques and low yields to coax richness and terroir out of their 20 plots covering just under 50 acres. The wines see long fermentations with indigenous yeasts. The élevage lasts from 10 to 20 months deep in the tuffeau cellars in a combination of demi-muids and foudres. All of these factors contribute to the elaboration of Cabernet Franc wines that are aromatically complex with the hallmark Saumur-Champigny scents of black raspberry and earth. "Fours à Chaux" is produced from two plots in its namesake vineyard consisting of mixed sand and clay soils above a chalky limestone bowl that gets prolonged sunlight during the ripening season.
Catherine & Pierre Breton "Trinch" (Bourgueil 2018) Regular Price: $27
Catherine and Pierre Breton farm 27 acres of vines just east of Bourgueil in the village of Restigné. The couple first introduced biodynamic practices into their viticulture in 1994, just after receiving their organic certification in 1991, and have become international icons for the natural wine movement in an area where the climate and soil can make organic viticulture difficult. While their wines are completely natural and unadulterated, their meticulous work in the vineyards and the cellar ensure that the wines are also consistently pure. "Trinch" is named after a German expression meaning "cheers" championed by the poet and philosopher François Rabelais. The wine is vinified in stainless steel with a cold maceration and is full of juicy fruit balanced by soft tannins and low alcohol.
Domaine Bernard Baudry "Le Domain" (Chinon 2018) Regular Price: $24
Bernard Baudry is easily one of Chinon's best producers. In 1975 he decided to start his own estate with five acres of vines in the village of Cravant-les-Coteaux. Today the estate is 79 acres and Bernard's son, Matthieu, works with his father to continue producing the consistent, high-quality wines for which the domaine is celebrated. The Baudry vineyards have been organically farmed since 2006. Harvest is done 100% by hand and post-harvest all fruit is de-stemmed and placed into gravity-fed vats where fermentation takes place with indigenous yeasts. The fresh and structured "Le Domaine" is a mix of fruit from vineyards of sand over limestone and gravel.
---
We are committed to providing you with your wine needs in the safest way possible. We do encourage you to take advantage of our back door pick-up or free delivery. We can easily process the payment of your purchase over the phone and load you up without you needing to get out of the car. Or we can deliver it to your doorstep for free (within a reasonable distance of our shop) and leave it there for you to bring in at your convenience.
- - -
Posted on 2020.09.09 in France, Wine-Aid Packages, Loire