We're always excited to receive a new vintage from the husband and wife team of Nathalie and Sylvain Langoureau, especially when they are as wonderfully drinkable as the 2016s.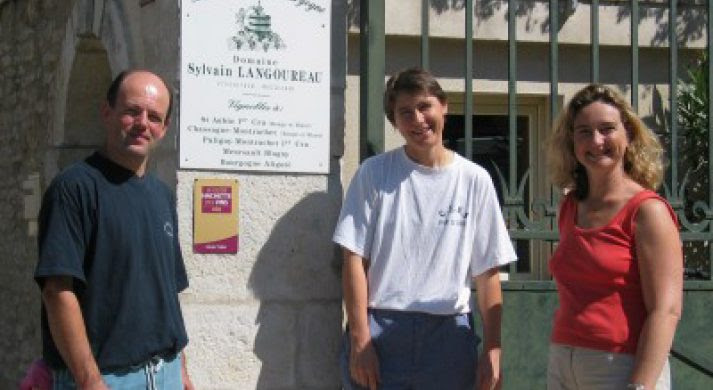 The couple farm about 24 acres of prime vineyards mainly in the Côte de Beaune villages of Saint-Aubin, Meursault, Puligny-Montrachet, and Chassagne-Montrachet. This is a heart and soul garagiste operation based in the tiny hamlet of Gamay, nestled between Puligny-Montrachet and Saint-Aubin. Sylvain took over this family domaine in 1988.
Farming at the Domaine follows the principles of la lutte raisonnée (the reasoned struggle), where chemical treatments are used only when absolutely necessary. All fruit is harvested by hand. Sylvain vinifies his wines with indigenous yeast and small percentages of new oak for only the most significant parcels. The resulting wines are elegant and focused treasures that are all produced in very limited quantities.
The 2016 vintage is like an ideal marriage of the fresh structure of 2014 and the phenolic ripeness of 2015 without quite as much accumulation of sugars. In short: exceptionally well-balanced and drinking well early with excellent potential for long term development.
---
All prices are based on the purchase of six or more bottles (mix-and-match)
~$26 "Clos Marc" Bourgogne-Hautes-Côtes-de-Beaune
100% Pinot Noir from a tiny walled vineyard near Saint-Aubin, "Clos Marc" is the rare red Burgundy that emphatically expresses place with a price tag still in the $20s. A poundable wine with generous fruit, it is both crowd-pleasing and complex. Like the fantastic 2015 vintage of Pierre Bart's Marsannay, this is a wine to purchase by the case.
~$40 "Les Voillenots Dessous" Chassagne-Montrachet
100% Pinot Noir. Although Chassagne-Montrachet is renowned for its white wines, the commune produces just as much red wine. A superb value from a parcel located on the border just below the village of Chassagne-Montrachet and across a lane from the Premier Cru parcel of Les Places.
~$40 Saint-Aubin 
100% Chardonnay from the back slope of the Côte d'Or behind the Grand Cru of Montrachet, the commune of Saint-Aubin is known for refined white wines of excellent value. 2016 is majestically balanced between rich, ripe orchard fruit and bracing minerality, with the stuffing for short to medium-term cellar development.
~$62 "Les Houillères" Chassagne-Montrachet
100% Chardonnay from a single vineyard on the border of Puligny-Montrachet, adjacent to the Premier Cru of Vide Bourse, and about 200 yards from the Grand Cru of Bâtard-Montrachet. Savory with bushels of sappy fruit and an everlasting finish of stone-ground lemon peel — a model Chassagne-Montrachet that is simply a joy to drink.
- - -
Posted on 2019.04.25 in Burgundy, France, Saturday Sips