Fattoria I Collazzi "Collazzi" (IGT Toscana 2014)
Special Price: $243/6-pack (~$40/bottle)
The breathtaking estate of Collazzi lies at the gates of Florence in northern Tuscany. A large part of the estate is covered with olive trees (Collazzi olive oil truly is a fine example of bold, peppery Tuscan oil) but wine has become the core product of the estate. Although Lamberto Frescobaldi, the head of the Florentine winemaking dynasty Marchesi de' Frescobaldi, was charged with modernizing Collazzi's cellars and revitalizing the vineyards, it is Collazzi vineyard manager and cellarmaster Alberto Torelli that spends the days among the vines.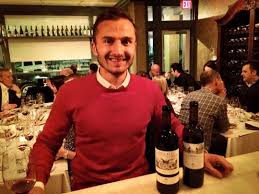 Alberto is a Florentine in every sense of the word. "A Lover of the land and ambassador of its flavors." Born in Florence in 1981, he followed in his ancestor's footsteps by studying winemaking and viticuture at the University of Agriculture in Florence before beginning his career in the Chianti area. After a chance meeting with Lamberto Frescobaldi, Alberto was hired to head up the estate. Since 2005, he has made the estate's wine, managed its vineyards, and even oversees the historic Collazzi villa that was originally designed by Michelangelo in 1560.
Collazzi's vineyards are generally warmer and drier than the surrounding area. Part of the estate lies in a natural amphitheater, with an ideal south-westerly exposure. Long, sunny days and a high average temperature allows a complete ripening of the fruit in all vintages. Because of heavier limestone clay soils, the vineyard plantings are mainly Bordeaux varieties. This prime terroir that produces fruit of exceptional quality and concentration coupled with passionate winemaking results in wines of elegance and aromatic complexity.
Collazzi's flagship wine was first produced in 1999. Since 2009 Collazzi has employed certified "Integrated Farming," a holistic approach where high quality organic fruit is produced sustainably and with as few polluting inputs as possible.
The 2014 vintage "Collazzi" is a blend of 50% Cabernet Sauvignon, 25% Cabernet Franc, 21% Merlot, and 4% Petit Verdot. All fruit was hand-harvested into small boxes and fermented separately. In the cellar the individual berries are examined by hand on a sorting table to eliminate even the smallest foreign matter, including damaged grapes and leaf fragments. The wine ages in French oak barriques (60% new) for 18 months and then it is bottle-aged for another 12 months before release.
A thickly layered perfume of blackberry compote, mocha, licorice, and tobacco rises out of a rich and ripe glassful of deep, concentrated fruit. The mid-palate is plump yet never veering off balance. The finish is lengthy, with a coiled mineral core surrounded by gentle tannins. A crowd-pleaser by any measure, you could do worse things in life than pairing "Collazzi" with classic Bistecca alla Fiorentina.
- - -
Posted on 2018.04.25 in Italy, Saturday Sips, Tuscany